Verde by Belmio
Verde by Belmio is a complex coffee with an aroma of sweet pears and toffee, woody oak and oriental spices. The taste brings intense citrus acidity, dark-roast bitterness and burnt toffee sweetness.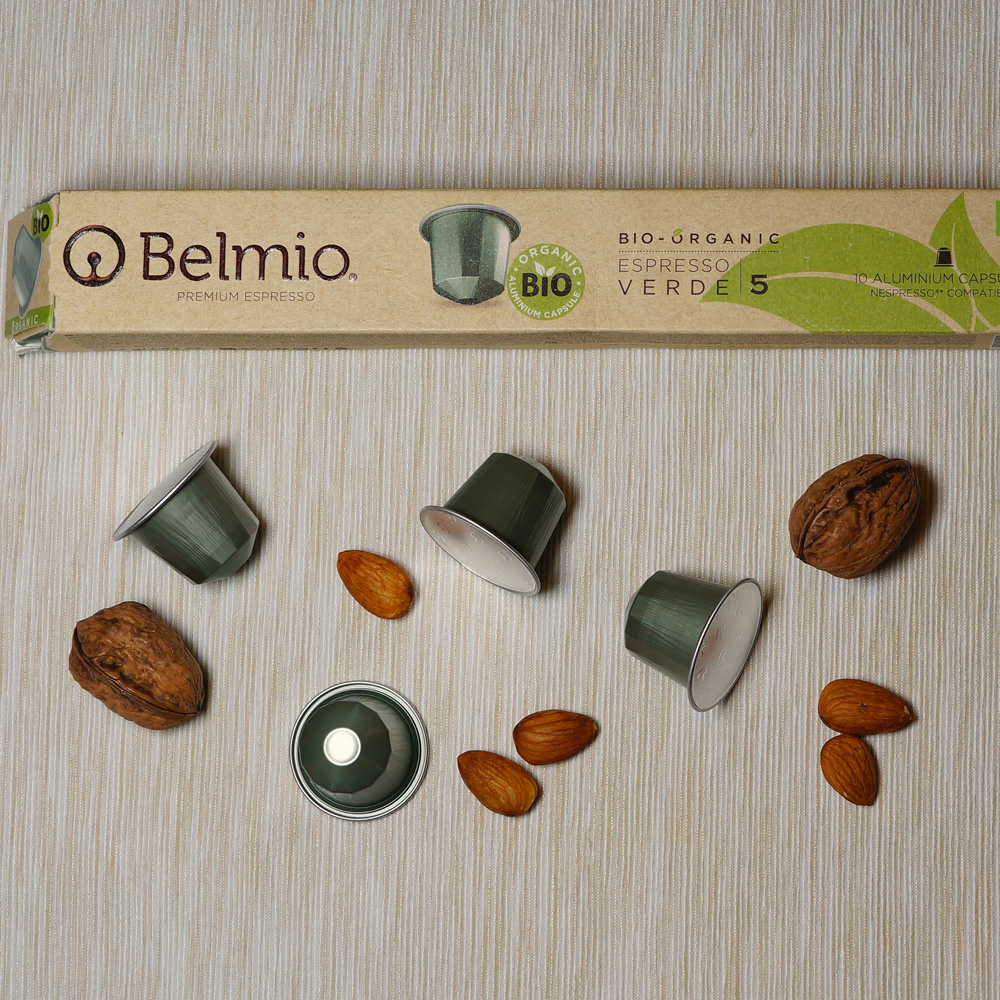 Aroma
On the nose, Verde is sweet, woody and spicy. Ripe pears and toffee sweetness are joined by oaky woodiness, hazelnuts, cloves, cardamom and a touch of sour-cherry acidity.
Taste
Verde is light yet complex and somewhat unbalanced. It shows an intense acidity of sweet limes, the bitterness of grapefruits and darkly roasted coffee, and the sweetness of roasted barley and burnt caramel.
Extraction
The extraction is without issues, resulting in nice crema.
Packaging
Verde capsules are packaged in a slim box with a design mimicking recycled paper—an allusion to the bio-organic coffee inside. The box form-factor is virtually identical to the Nespresso packaging. Belmio Verde capsules are made of aluminium and have a pleasing design. It is relatively straightforward to recycle the capsules—just empty them and dispose of in the metal refuse. You can also use recycling schemes, such as that of Nespresso. There is not any flavour description on the packaging, just information about roasting (light) and intensity (5 out of 12).
Notes
Belmio states that coffee in Verde capsules is bio-organic, but does not reveal its origin. Neither we know what should be the flavour profile of this espresso.
Belmio uses the same capsule technology as, for example, Cru Kafe (Organic Colombian), Caffè Nero (Classico) or Colonna (La Independencia). The capsules are made entirely of aluminium and perform well in the Nespresso machines.