Doppio Espresso by Café Royal
Doppio Espresso by Café Royal brings strong and intense coffee showcasing Italian-style dark roasting without any burnt notes. Its aroma combines caramel with ripe sour cherries, almonds and dark chocolate. The taste is dominated by herbal bitterness mellowed by light, fruity acidity and creamy sweetness.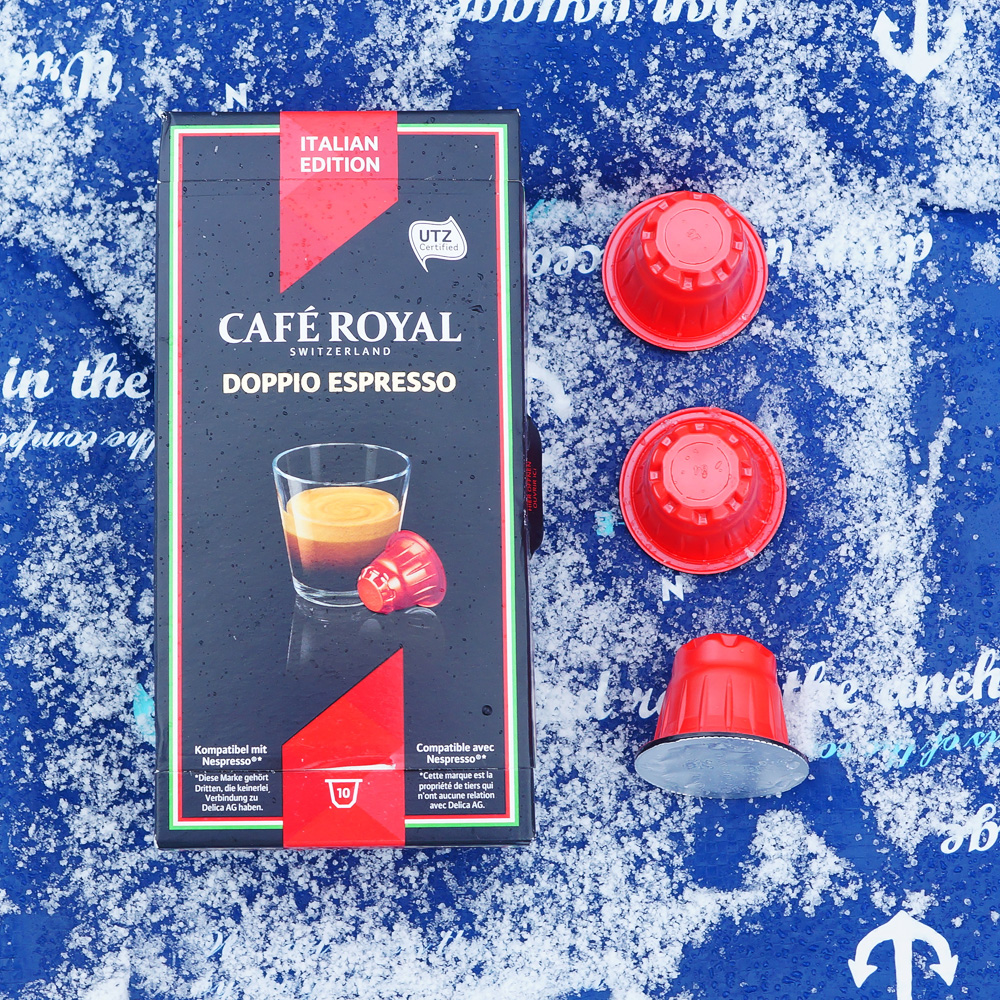 Aroma
The aroma of Doppio Espresso immediately reveals its bold, Italian style. This is an intense and darkly roasted espresso showcasing the pleasant sweetness of caramel and the sweet acidity of ripe sour cherries. Almonds, amaretto and the dark chocolate add another aromatic layer.
Taste
On the palate, Doppio Espresso starts with light, fruity acidity and creamy sweetness. The intense and somewhat dominating herbal bitterness succeeds those flavours and continues into the longlasting aftertaste. A sweet hint of creme caramel comes at the end.
Extraction
Extraction is steady and produces nice, tall crema.
Packaging
Doppio Espresso, the 'Italian' edition of Café Royal comes in a dark, elegant box with Italian themed graphic elements. The plastic and aluminium capsules have the typical Café Royal industrial shape and bright red colour. The combination of the used materials makes the capsules non-biodegradable and difficult to recycle. Café Royal describes its espresso as having distinct roasted aromas combined with nutty and woody notes. The intensity rating is 11 out of 10.
Notes
The capsules of this intense, Italian-style edition of Café Royal contain more than the usual amount of coffee (5.8 grams), hence the name Doppio. A prepared espresso brings pleasantly bold aroma and a distinctly bitter taste without any burnt notes. This is a perfect choice for those occasions when an intense and strong espresso is needed.
Doppio Espresso falls well in the line of the Italian-style capsules we have reviewed. Its qualities are similar to those of Cremoso by Cellini Caffè or Costa Rica by Caffé Corsini.