Brasil by Caffé Corsini
The single-origin Brasil edition by Caffé Corsini has an aroma that combines mild bitterness with caramel sweetness, hazelnuts, spices and raw cocoa nibs acidity. The taste brings smooth chocolate, light acidity and a touch of bitterness, all wrapped in a velvety body.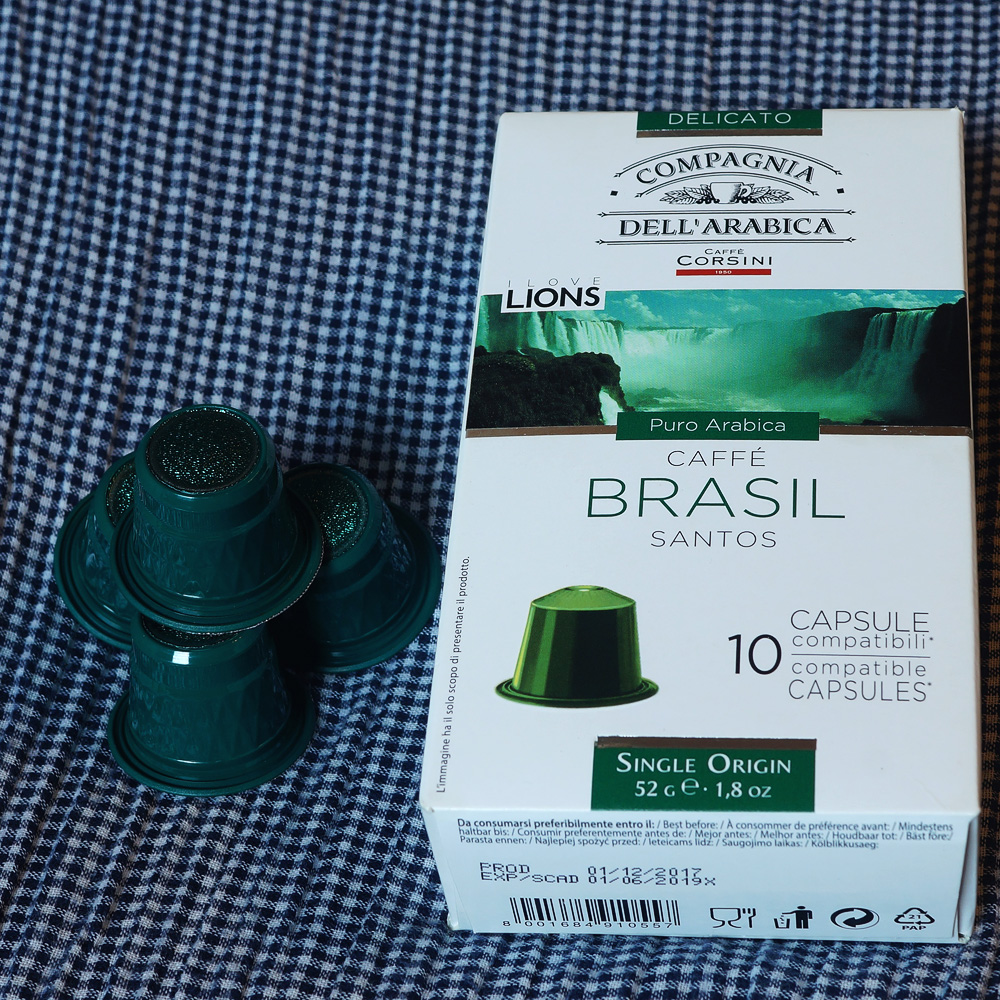 Aroma
Brasil by Caffé Corsini has a heavier but pleasant aroma revealing the dark roasting. Its mild bitterness is well balanced by the sweetness of caramel and marzipan. The distinct hazelnuts combine with spices (cinnamon, vanilla and nutmeg) and a touch of woodiness to add the depth while the raw cocoa nibs supply lightly acidic notes.
Taste
The mouthfeel of this espresso is pleasantly smooth thanks to its rich crema. The taste brings forward velvety chocolate and the light acidity of raw cocoa nibs, followed by mild bitterness and creamy sweetness.
Extraction
The extraction process is without any problems and produces a very nice and tall crema.
Packaging
The Brasil edition of Caffé Corsini comes in a richly decorated box. The plastic capsules have structured design and the aluminium foil covers their top and bottom. The foil at the top has a colour that matches the colour of the plastic, making the capsules visually more pleasing. Caffé Corsini describes this espresso as delicate and smooth, with a light touch of chocolate.
Notes
This single-origin, pure Arabica from Brasil makes a very nice espresso which exhibits all characteristics of quality Brasilian coffee-heavier body with abundant sweetness, low acidity and notes of chocolate and nuts.
We are pleased by the very good performance of the Caffé Corsini capsules because the top-and-bottom aluminium foil covered capsules sometimes don't perform reliably. This is, for example, the case of Guatemala by Starbucks. On the other hand, similar capsules from Carte Noire Espresso (Kenya, Colombie and Bio) perform flawlessly.