Costa Rica by Caffé Corsini
Costa Rica by Caffé Corsini has heavier aroma combining the sweetness of caramel and amaretto with notes of nuts and smokiness. The taste of this espresso is not fully balanced, bringing together the darker roast bitterness, creamy sweetness and light, fruity acidity.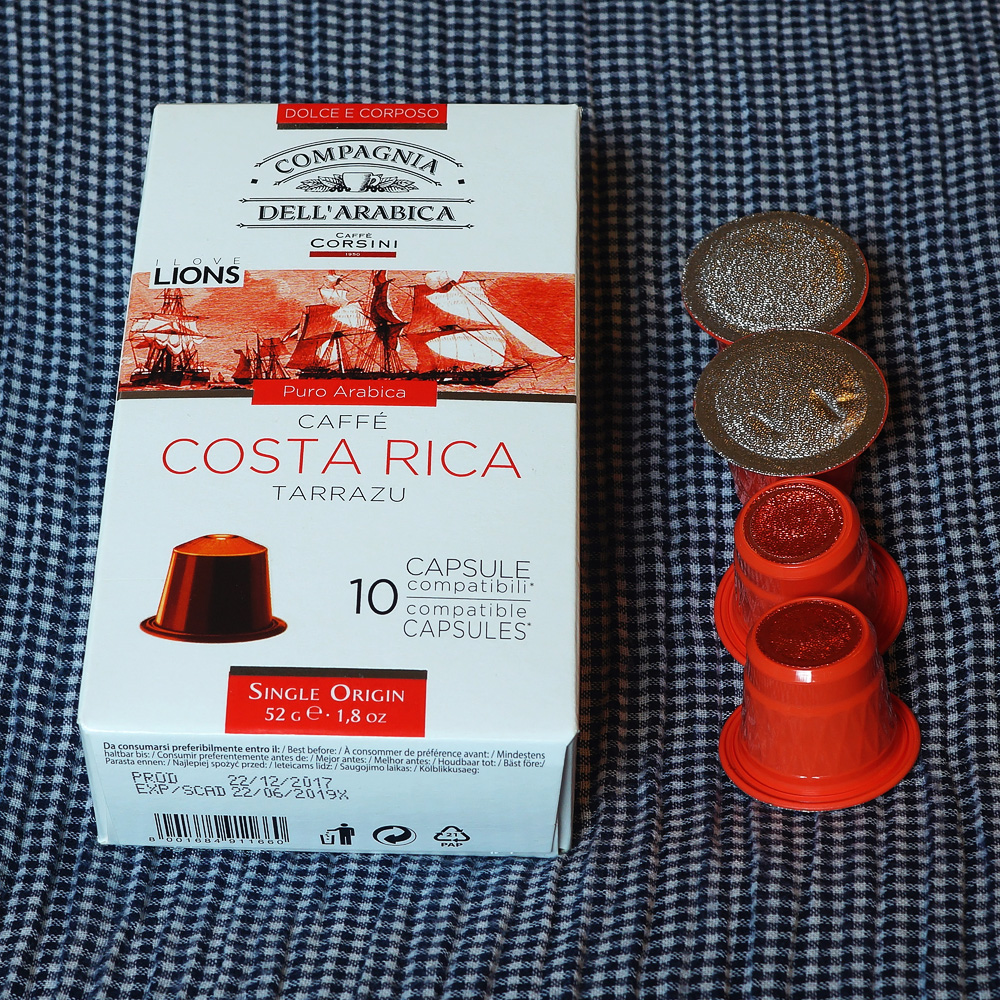 Aroma
The aroma of Costa Rica by Caffé Corsini is heavier and not very intense. It combines the sweetness of caramel, amaretto and maraschino cherries with notes of nuts and a touch of smokiness.
Taste
On the palate, this Costa Rica brings darker roast bitterness which is not entirely balanced by creamy sweetness and mild, fruity acidity. A touch of cocoa is present in the aftertaste.
Extraction
The Caffé Corsini capsules work flawlessly and produce rich crema.
Packaging
The packaging of Costa Rica has a vintage look evoking a long-gone era of sea voyages to Americas. The plastic capsules with structured design are covered by aluminium foil at the top and bottom. The top foil has the same colour as the plastic which makes the capsules look prettier. However, the capsule design depicted on the packaging does not correspond to the real look of the capsules. Caffé Corsini describes this Costa Rica as fragrant, full-bodied and well-balanced.
Notes
This single-origin edition of Caffé Corsini capsules contains 100% Arabica beans from Tarrazu region of Costa Rica. While these capsules make a good quality espresso, they do not reach the best potential of the Tarrazu coffee, which is sweet, clean and light-bodied. The Costa Rica edition thus stays behind its sister edition Brasil.
However, we again praise the flawless extraction process of the Caffé Corsini capsules which delivers plentiful velvety crema. As we have discussed in our review of Brasil, such a good performance is not always delivered by capsules with the top-and-bottom aluminium-foil covers.