Kenya by Carrefour
This Kenya by Carrefour has a balanced aroma combining dark-roast bitterness with the sweetness of cereals and caramel. In contrast, its taste is sharp and unbalanced and offers lemony acidity and intense bitterness.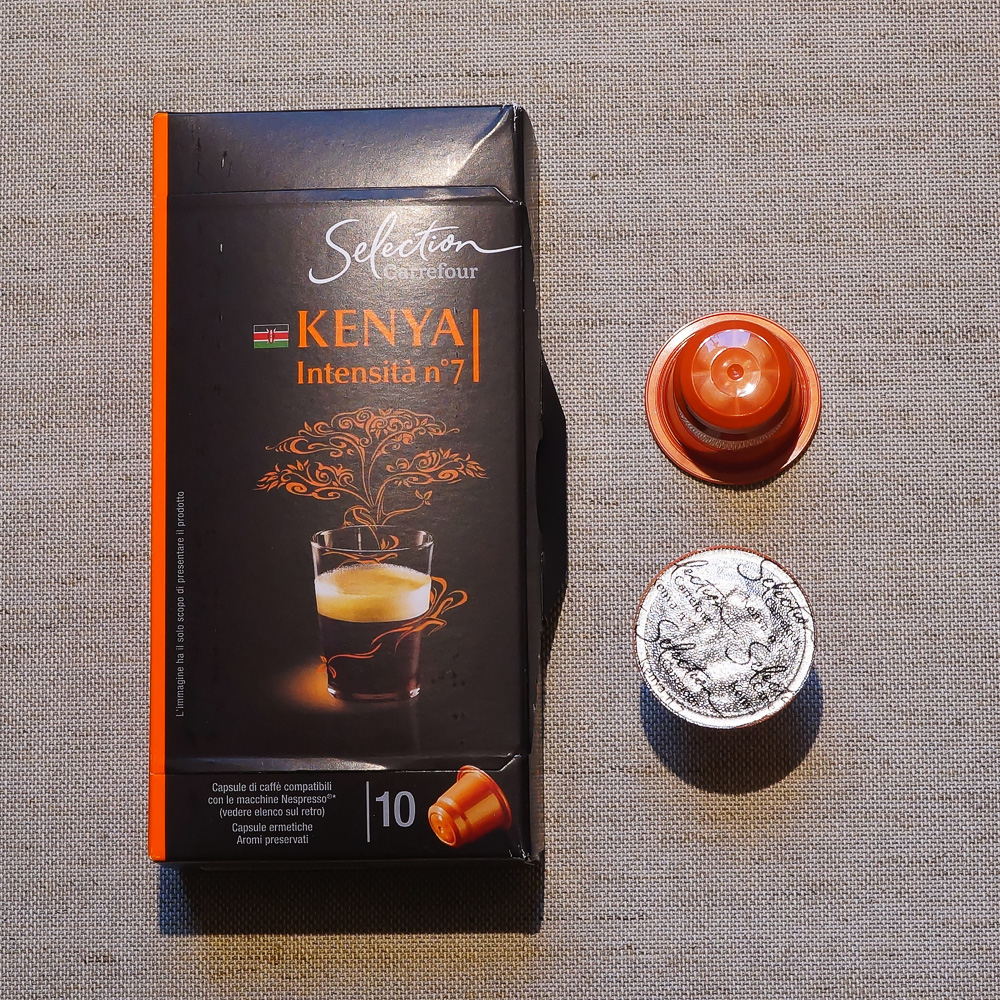 Aroma
The aroma of this Kenya starts with heavier, dark-roast notes and pleasant sweetness of cereals and caramel. Hints of cocoa, nuts, vanilla and a touch of acidity arrive later.
Taste
While the aroma is rather smooth, the taste is certainly sharp. The stark lemony acidity combines with the intense bitterness of coffee roasted too darkly. The aftertaste is long and medicinally bitter.
Extraction
The extraction is steady and takes longer than usual. Resulting crema is nice and tall.
Packaging
Kenya by Carrefour comes in a dark and nicely decorated box. The plastic-and-aluminium capsules are non-biodegradable and difficult to recycle. Carrefour describes this Kenya as coffee with fruity acidity in the aroma and extremely intense and aromatic taste. The intensity rating is 7 out of 12.
Notes
These Carrefour supermarket branded capsules contain single-origin Arabica beans from Kenya. The coffee beans are in our opinion too darkly roasted. Such a roasting is masking the typical berry-fruit aromas of Kenyan coffee and at the same time introduces intense and unbalanced bitterness. The second characteristic quality of Kenyan coffee, its acidity, is here rather overwhelming.
The capsules use the same well-performing technology as Alto and Colombie by Planteur des Tropiques Espresso.