Bio edition from Carte Noire Espresso
Bio by Carte Noire Espresso is an intense, dark-roast espresso. Its aroma combines the sweetness of malt and caramel with cocoa bitterness. The taste is more robust, filled with starker fruity acidity and lasting herbal bitterness.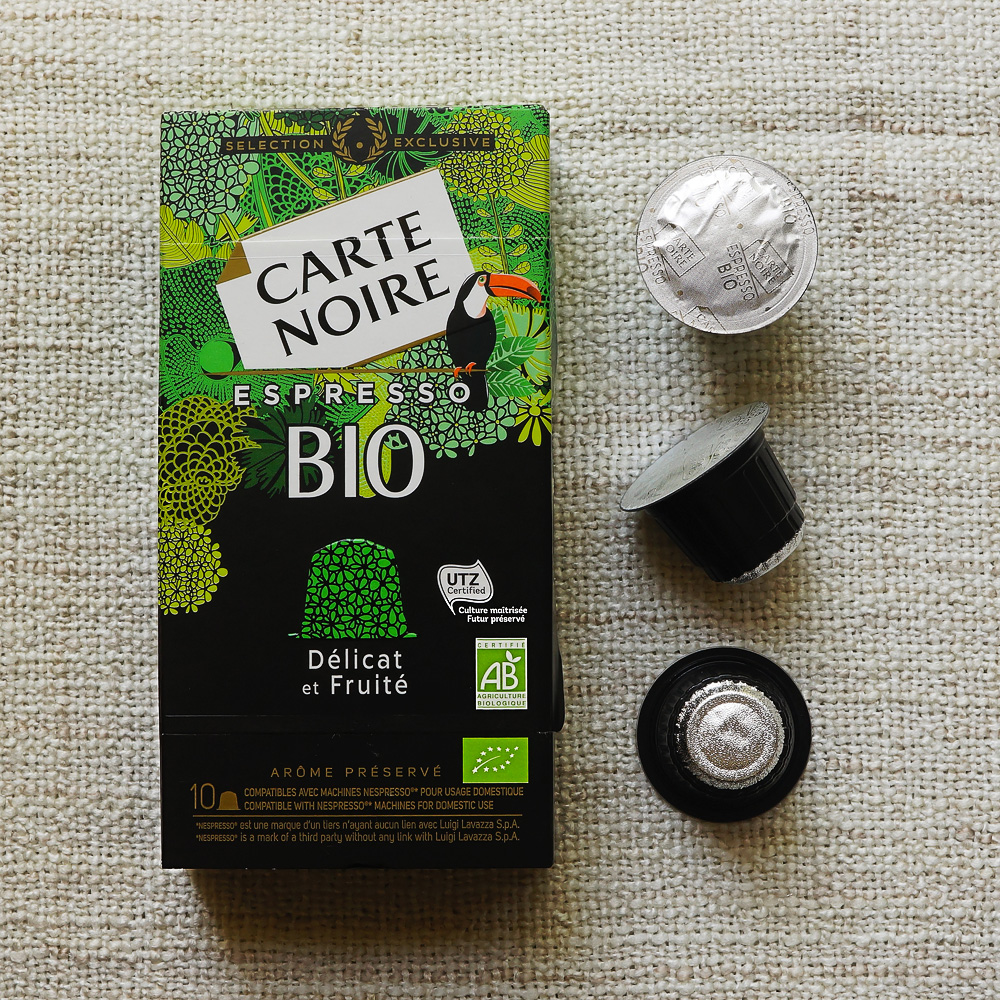 Aroma
This espresso has an intense yet pleasant, dark-roast aroma. In it, the heavier sweetness of malt and caramel combines with cocoa bitterness. The aroma is enriched with notes of cinnamon and smooth crème caramel but lacks balancing acidity.
Taste
The taste combines rougher, fruity acidity with intense herbal bitterness. This bitterness continues throughout the long-lasting, spicy aftertaste. The finishing hints of smoke suggest a dark roasting.
Extraction
The standard extraction produces a good amount of crema.
Packaging
The beautiful graphic design of the Bio edition from Carte Noire Espresso evokes a lush jungle. The box also depicts a capsule with an interesting floral pattern. Perhaps surprisingly then, capsules themselves are made of black plastic and at both ends covered with bright, aluminium foil. This combination of materials makes the capsules difficult to recycle and not biodegradable. Carte Noire Espresso promises us coffee with floral, fruity notes and light acidity. The intensity rating is 5.
Notes
The Bio edition from Carte Noire Espresso contains single-origin Arabica beans from organic plantations in Honduras. The fact that this is single-origin coffee is stated only casually in the description at the back of the box. Unfortunately, Bio capsules do not deliver on their promise of a delicate, floral espresso. While Bio still makes a good cup of coffee, its beans are perhaps too darkly roasted. We were more satisfied with other single-origin offerings from Carte Noire Espresso – Kenya and Colombie.