Earth, Bartender Series by Colonna
The Earth edition of the Bartender series by Colonna is a single-origin Indonesia with an aroma that is earthy, spicy and sweet. It brings together notes of tropical woods, molasses, cinnamon, pears and milk chocolate. The taste is fresh, intense and complex. Its acidity and sweetness of black currants and oranges are well balanced by rich dark chocolate.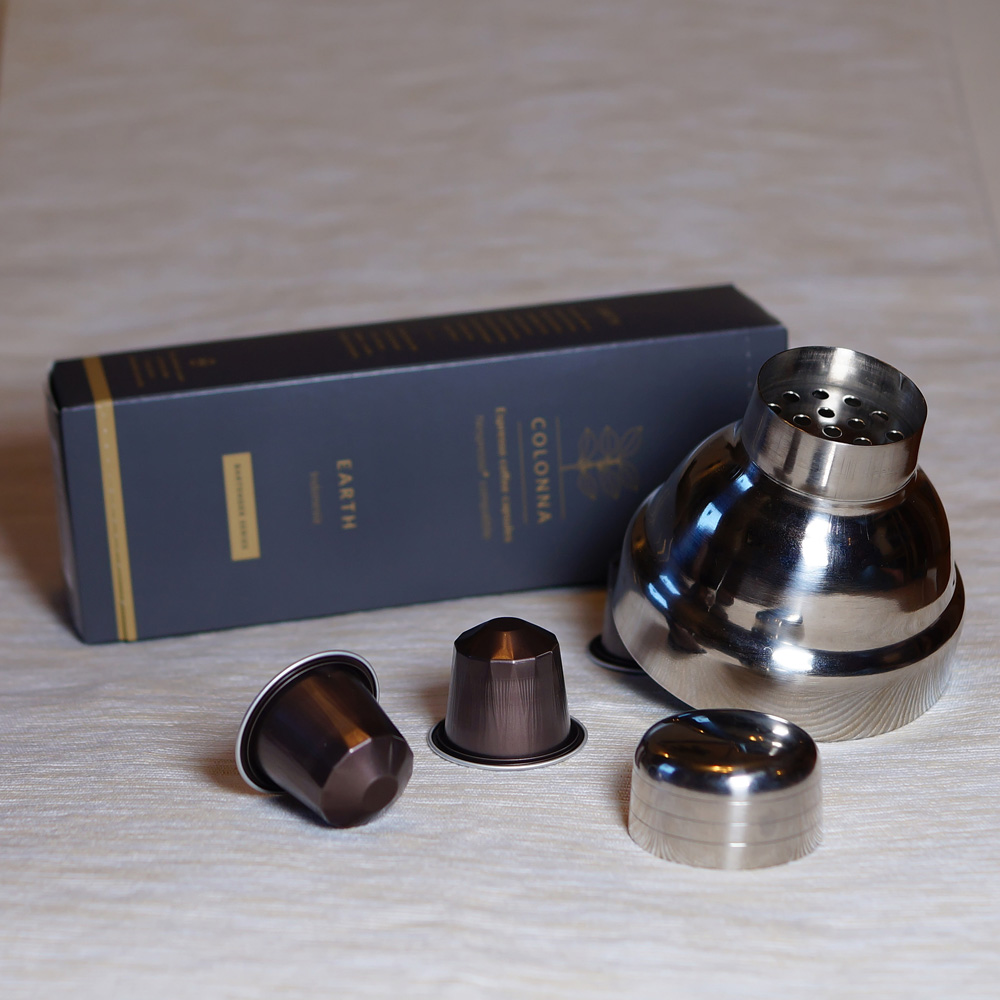 Aroma
The aroma of this espresso opens up with heavier, earthy notes of tropical woods, molasses and malted barley that are followed by lush spiciness of cinnamon and cloves. Everything is balanced by the sweetness of pears, milk chocolate and cereals.
Taste
The taste is fresh, complex and well balanced. At the beginning comes an intense fruitiness that combines the acidity of black currants, the sweetness of oranges and the bitterness of grapefruits. Next are the rich dark chocolate and a touch of caramel. The long-lasting aftertaste leaves behind a mild note of cocoa.
Extraction
The steady extraction produces crema that is smooth and tall.
Packaging
The Earth edition is neatly packed in a box with an elegant, minimalistic design. The aluminium capsules have a pleasing look and can be disposed of in your metal refuse. To recycle them, you may also use collect-and-recycle schemes, such as that of Nespresso. Colonna describes the Earth edition as herbal, sweet and mildly spicy.
Notes
The Bartender Series of Colonna capsules was created with the use in cocktails in mind. The Earth edition is said to work best in drinks based on mescal or tequila. However, the Earth edition is thoroughly enjoyable also as an espresso.
The coffee in these capsules is a single-origin Indonesia, more precisely the grade 1 Mandheling from the Sumatran region of Gayo. The green coffee beans were most probably processed by the wet-hull method that is typical for Indonesia. This process often produces heavier, earthy coffees with subdued acidity (an example is the Master Origin Indonesia from Nespresso). Fortunately, in the Earth edition, acidity remains and makes this coffee well balanced and pleasantly complex. We have seen similar qualities before in the Sumatra by Roastworks Coffee Co. or the Sumatra by Jones Brothers.