Fruit, Bartender Series by Colonna
The Fruit edition of the Bartender Series by Colonna is superb, naturally processed Ethiopia. Its intense aroma is fruity and floral, bringing together forest blueberries, sweet cherries and meadow flowers. The taste is also pleasingly fruity, balancing blueberries, plum jam and cocoa.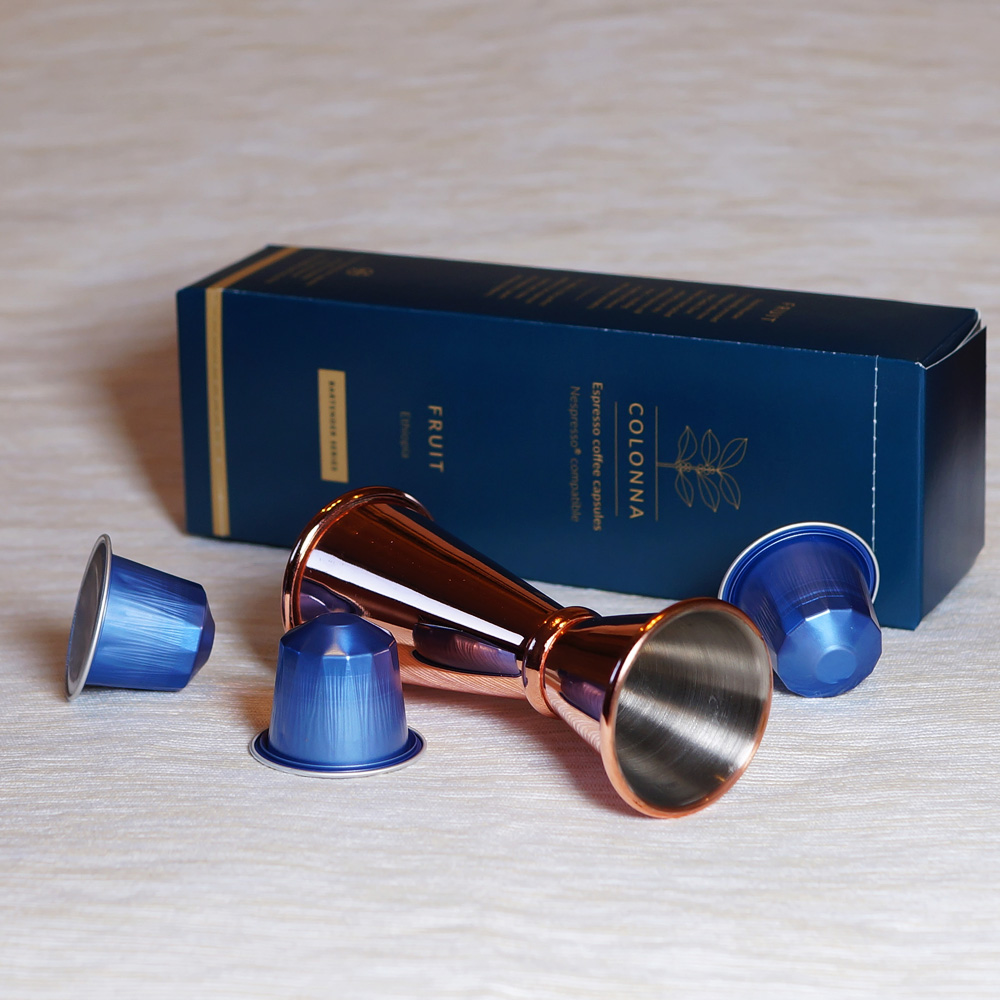 Aroma
The aroma of this espresso is intensely fruity, with delightful floral notes on top of that. A range of ripe fruits pleases our senses, with fresh forest blueberries and ripe sweet cherries at the forefront. Floral sweetness of summer meadows and captivating scents of oriental spices contribute to this excellent mix.
Taste
The Fruit edition brings the same superb experience also to our palates. Its taste is full-bodied, intense and well-rounded, with the delicate sweetness of blueberries at the start. With them comes the rich cocoa, plum jam and acidity of sour cherries.
Extraction
The extraction is very slow but steady. The crema is rich.
Packaging
The pleasingly coloured box with a minimalist design contains neatly stacked aluminium capsules that will look great in your decorative holders. You can recycle the capsules in your metal refuse when you empty them. Alternatively, you can use recycling schemes, such as that of Nespresso. Colonna describes this single-origin Ethiopia as complex and fruity, with notes of strawberries, peach and blueberries.
Notes
Fruit is another addition to the Bartender Series of Colonna capsules – the other editions are Sweet and Earth. While destined to use in cocktails, Fruit edition works fabulously also on its own.
This single-origin Ethiopian Arabica from Rocko Mountain is naturally processed, which gives it its fruity qualities. In our opinion, this espresso showcases the pinnacle of Ethiopian speciality coffee. Truly exceptional!
We have reviewed similar, superb capsules with Ethiopian coffee before, for example, Yeti Moka Bio by Terres de Café or Kochere Natural and Wegida Blue by Colonna.