Chirinos, Peru by Colonna
The single-origin Chirinos capsules by Colonna make a modern, complex coffee from Peru. These compostable capsules are from the Americas collection. The mellow aroma of this espresso combines the sweetness of cereals and pears with a touch of cinnamon. The taste is fresh, with the acidity of apples on the start, followed by the fruity sweetness of pears and the bitterness of cocoa and grapefruits.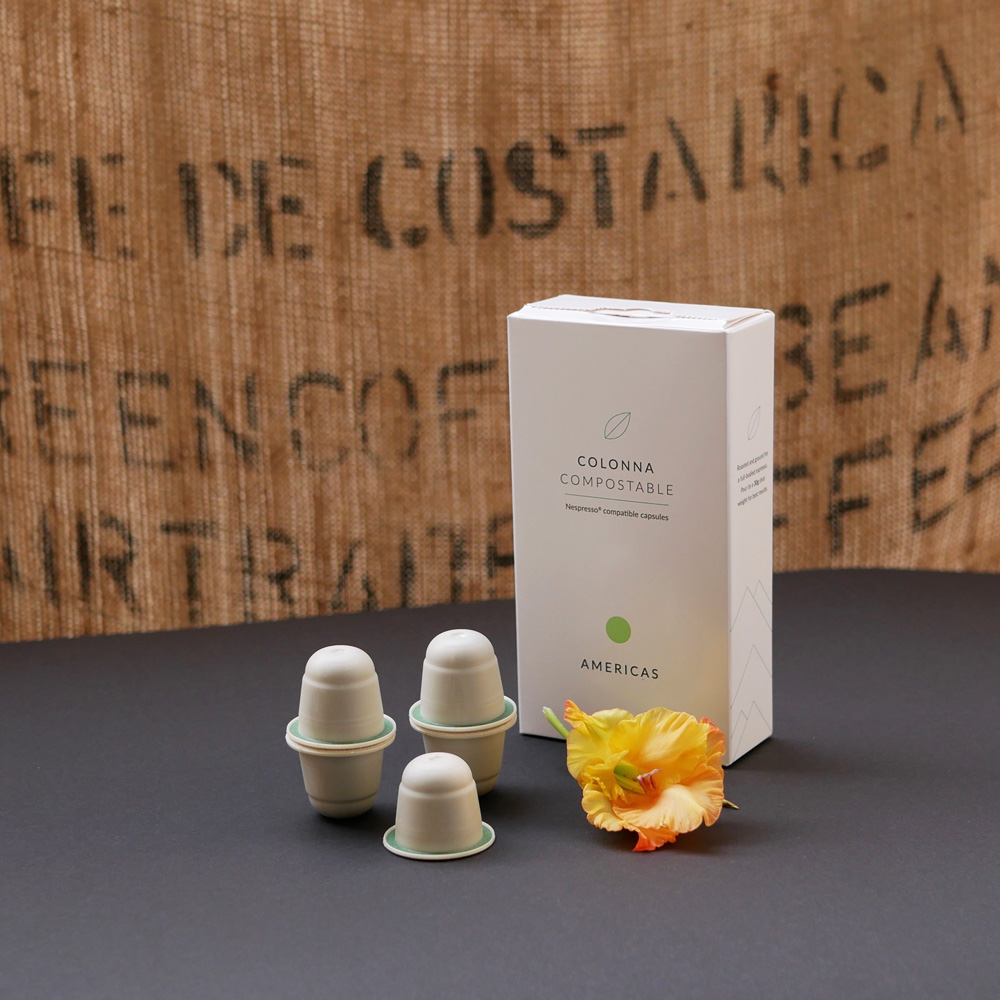 Aroma
The aroma of Chirinos is mellow and light, offering cereal sweetness, cinnamon, a fruity touch of pears, and a few dry notes of paper.
Taste
On the palate, Chirinos opens up with bright, intense acidity of green apples which mellows into sweet notes of ripe pears. The following wave of flavours brings dry bitterness of cocoa and light woody notes. The aftertaste is zesty and bitter, as grapefruits in their prime.
Extraction
The extraction is flawless and quick, producing a fair amount of lightly hued crema.
Packaging
The composable Colonna capsules come loosely packed in a white box with a modern, minimalist design. The capsules are made of hard, organic material and are covered by a tough, fibrous membrane. The used capsules can be disposed of in the compostable waste. Colonna describes this single-origin Peru as an espresso with notes of red apples, toffee and malt.
Notes
Chirinos is a single-origin Peruvian offering from Colonna's Americas series of compostable coffee capsules. Its fully-washed beans were grown in the northern Cajamarca region. These capsules make a complex (albeit slightly unbalanced) espresso led by fresh, fruity acidity. Its qualities show the potential of Peruvian growers to overcome the soft and monotonous flavour profile usually associated with coffee from Peru.
Since our last reviews of their compostable capsules – El Mirador and Sasaba – Colonna has changed the capsule technology of their biodegradable offering. While we were always satisfied with the performance of the previous design, we see the elimination of additional packaging and shrinking of the retail box as advantages of the new technology. The current compostable capsules from Colonna use the same basic design as many other compostable capsules on the market, e.g. Espresso Fortissiomy by My-coffee Cup, Colombian by Eden Project, or No. 6 by Espresso San Marco. However, the key difference is the lid. While other producers used a simple paper filter to cover the capsules, the new design by Colonna uses a tough, fibrous material which seems to be airtight. Thus, the capsules can be filled with a protective nitrogen atmosphere which keeps the grounded coffee in them fresh for a long time. We will be curious to see if this new technology will safeguard the coffee in the capsules from oxidation until the end of their extended shelf life.