Kochere Natural, Ethiopia by Colonna
Kochere is a naturally processed Ethiopia from Colonna. Its aroma combines rich, fruity acidity of cherries with the sweetness of plum and strawberry jams and spicy chocolate. The taste brings juicy strawberries, rhubarb pie and notes of black tea.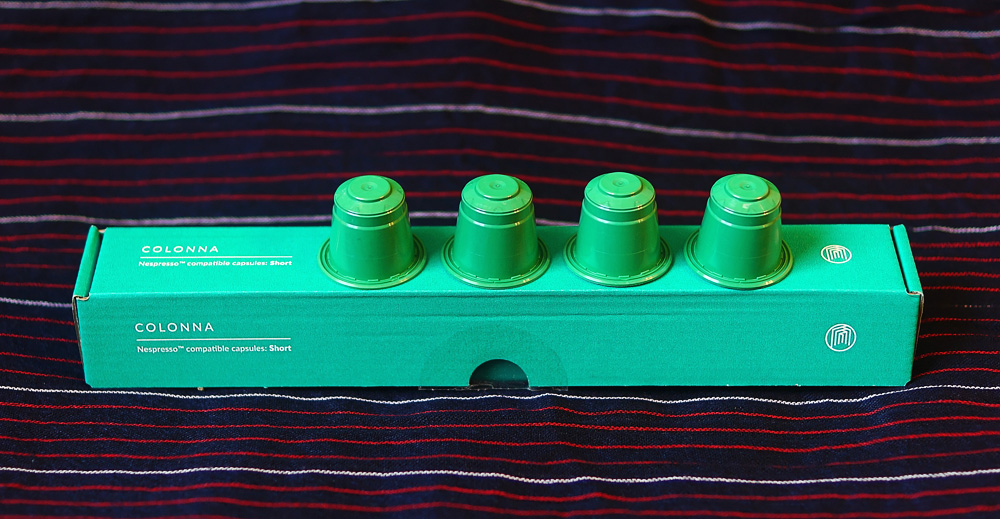 Aroma
The aroma of this naturally processed Ethiopia opens up with rich, sweet fruitiness. Its complex, pleasantly acidic concert of cherries and aromatic jams made of plums and strawberries is accompanied by velvety chocolate. The finish brings notes of sugary cinnamon, vanilla and a touch of black tea.
Taste
On the palate, Kochere has the well-balanced yet sparklingly juicy acidity of strawberries and rhubarb pie is followed by the dryness of black tea. The aftertaste is smooth and creamy, with a touch of cocoa.
Extraction
The extraction process is painfully slow and even stops intermittently. Resulting crema is mostly nice and tall.
Packaging
Kochere comes in a simple, sleeve-like box made of unpretentious cardboard. Capsules are made of plastic covered by aluminium foil. This combination of materials makes the capsules non-biodegradable and difficult to recycle. Colonna describes Kochere as boldly fruity coffee which is full of strawberries complemented with delicate, camomile notes and a black-tea-like finish.
Notes
Kochere Natural is a part of the Discovery range of Colonna capsules. Capsules from this range showcase coffee which is in some way atypical. They either contain coffee varieties which are not common in the region where they are grown or beans processed by atypical methods. In Kochere, Colonna brings us an exquisite naturally processed Ethiopian coffee from Yirgacheffee region. This coffee produces a beautifully complex, modern espresso. The careful natural processing gives Kochere its rich fruitiness while it manages to avoid the heavier notes of fermented cascara.
Kochere is, after Los Robles, another superb espresso from Colonna. Its only drawback is the problematic extraction caused by, in our opinion, a faulty batch of capsules. The same batch caused the same problems also in Musasa Nkara and Los Robles by Colonna and even The Espresso from Roastworks.
As Colonna notes, Kochere is the name of one of the most famous washing stations in the Yirgacheffe region. The naturally processed Heirloom Arabicas from this high-altitude region can be delightfully fruity and enchanting – as Kochere Natural undoubtedly is.