Los Robles, Guatemala by Colonna
This single estate Guatemala from Colonna is another expression of excellent, modern espresso. It is packed with rich fruitiness of red berries and sweetness of chocolate.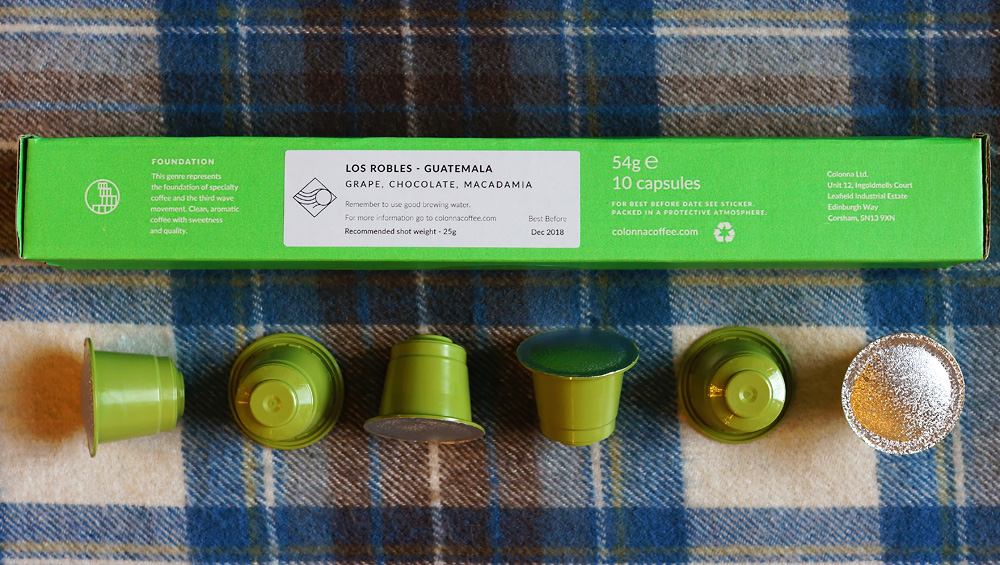 Aroma
This espresso starts with a very pleasant combination of juicy, fruity acidity and sweetness of raspberries and strawberries. These are followed by rich chocolate.
Taste
Juicy, fruity acidity of red berries and yellow melon is again at the forefront. That is followed by velvety chocolate and the closing hints of cocoa bitterness. We found also herbal notes of green tea and hops.
Extraction
Extraction is somewhat problematic. Extraction time is longer than usual and the flow rate is very low, even almost stopping at times. Resulting crema is very tall.
Packaging
The box has the form factor of the Nespresso® sleeve. It is made of unpretentious folded cardboard with a minimalist graphic design. Capsules are made of coloured plastic and capped with aluminium foil. This combination of materials makes them non-biodegradable and difficult to recycle. These capsules are from the Colonnas' Foundation genre that provides speciality, aromatic coffee. We should expect grape acidity with chocolate and macadamia.
Notes
This is another excellent example of speciality coffee from Colonna. It is grown by family producer Los Robles in the mountainous Huehuetenango region of Guatemala.
The capsule technology Colonna use for their standard capsule offerings is different from that used for the compostable capsule range – see our reviews of Wegida Blue and Mi Bendicion. The standard Colonna capsules seem to be identical to those by Roastworks. However, unlike with the capsules from Roastworks, we encountered several difficulties with the current batch of Colonnas' capsules. In our Krups U machine, some capsules failed altogether. With our new Pixie machine that has a hand-operated capsule release mechanism, they performed better. However, even here they sometimes failed to produce sufficient amount of brewed coffee. Because we previously did not have these issues with the standard Colonna capsules, we will hope that this is just a temporary problem related to this specific end-of-2017 batch.