Mi Bendicion, Honduras by Colonna
Mi Bendicion by Colonna is a superb, modern espresso with well-balanced sweetness and juicy fruity complexity.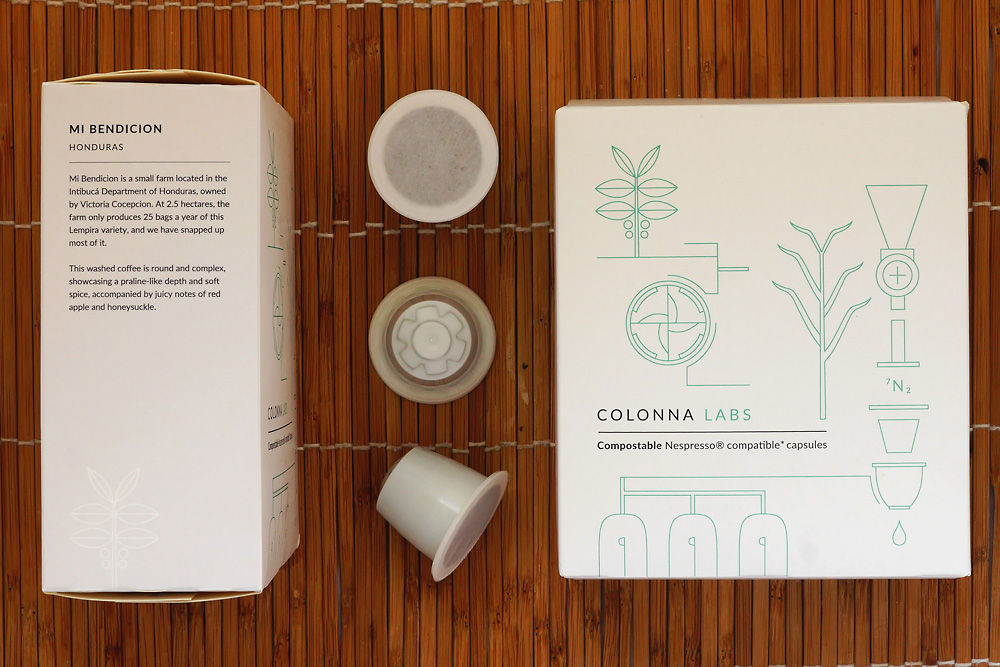 Aroma
Very pleasant and harmoniously balanced aromas of malty sweetness and juicy acidity. At the forefront are rich notes of red berries in dark chocolate and juicy apricot jam followed by hints of smoke.
Taste
The rounded, fruity acidity is well balanced by a hint of coffee bitterness immediately followed by the sweetness of ripe apples. A little kick of zesty lemon followed by sour and sweet rhubarb crumble also gets through. The pleasant aftertaste has lasting, buttery sweetness.
Extraction
Consistent extraction with steady flow rate and pressure delivers nice crema. Around one in twenty capsules loses pressure which results in a shorter than usual espresso.
Packaging
The box has a very modern, minimalist design. The fully compostable capsules are made of white compostable plastic covered by a paper lid. Capsules are packaged by 5 in bags made of compostable material. These bags are filled with a protective nitrogen atmosphere to keep the coffee fresh. Once open, capsules should be used within a week for the best results. This makes them unsuitable for any decorative holder – a price to be paid for the fully compostable technology. Mi Bendicion by Colonna promises rounded complex coffee with praline-like depth and juicy red apple.
Notes
This is the edition of the Colonna capsules that use special, fully compostable technology. It contains washed Lempira variety beans from a small farm in Intibucá Department of Honduras. The coffee offers a complex range of flavours representing the very best from Honduras.
This is a singular example of a modern espresso from speciality coffee roaster delivered in the most sustainable capsules. Truly exceptional!