Musasa Nkara, Rwanda by Colonna
Another coffee from Colonna, another excellent example of modern, speciality coffee. The aroma is rich and sweet while the taste is mellow, fresh and fruity.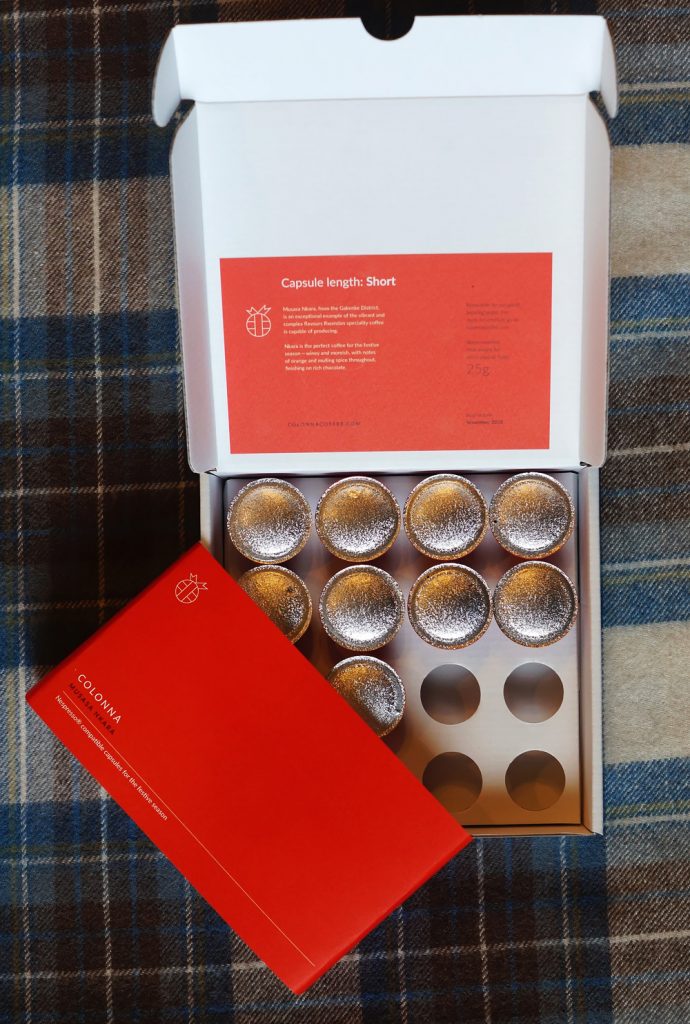 Aroma
The aroma of this espresso begins with the heavier, velvety sweetness of crème caramel and a bowl of breakfast cereals. Hints of roasted barley, pecan nuts, blanched almonds, cocoa, cinnamon and molasses all come through. This complex sweetness is accompanied by the soft acidity of dark red berries and baked orange.
Taste
This coffee is delightfully unusual. It is mellow, fresh and full of sweet, fruity acidity. This juiciness is balanced by the dark chocolate which lasts well into the pleasantly long aftertaste.
Extraction
The extraction is problematic in the same way as in the case of Los Robles capsules by Colonna. Several capsules failed to collapse properly in our De'Longhi Pixie machine which then leads to a very slow flow rate that sometimes stops altogether. The extraction time is in any case long which results in nice, tall crema.
Packaging
Musasa Nkara is a special edition of Colonna capsules intended for the festive season. The practical box made of white folded cardboard contains 16 neatly packed capsules. These are made of plastic and are capped by aluminium foil. This combination of materials makes capsules non-biodegradable and difficult to recycle. The description on the box promises coffee that is specially fit for the festive season – winey, with notes of orange, mulling spices and chocolate.
Notes
Musasa Nkara is yet another example of excellent, pleasantly complex, speciality coffee from Colonna roasters. This Arabica from the Rwandan Gakenke district showcases the typical, fresh and fruity character of the best Rwandan coffee.
The only shortcoming of these Colonna capsules is the rather problematic extraction. The present capsules are from the same end-of-2017 batch as the Los Robles capsules we tested before. Again, we met the same problems. Several capsules failed to fully collapse in the coffee machine which results in an uneven flow rate that sometimes slows down to mere dripping. However, we still hope that these problems are limited only to this batch of capsules and will not continue into the future.