Wegida Blue, Ethiopia by Colonna
Wegida Blue from Colonna is an exquisite example of naturally processed coffee. It is rich, complex, fruity and sweet both on the nose and on the palate. Notes of forest fruit jam and chocolate dominate in this exceptional espresso.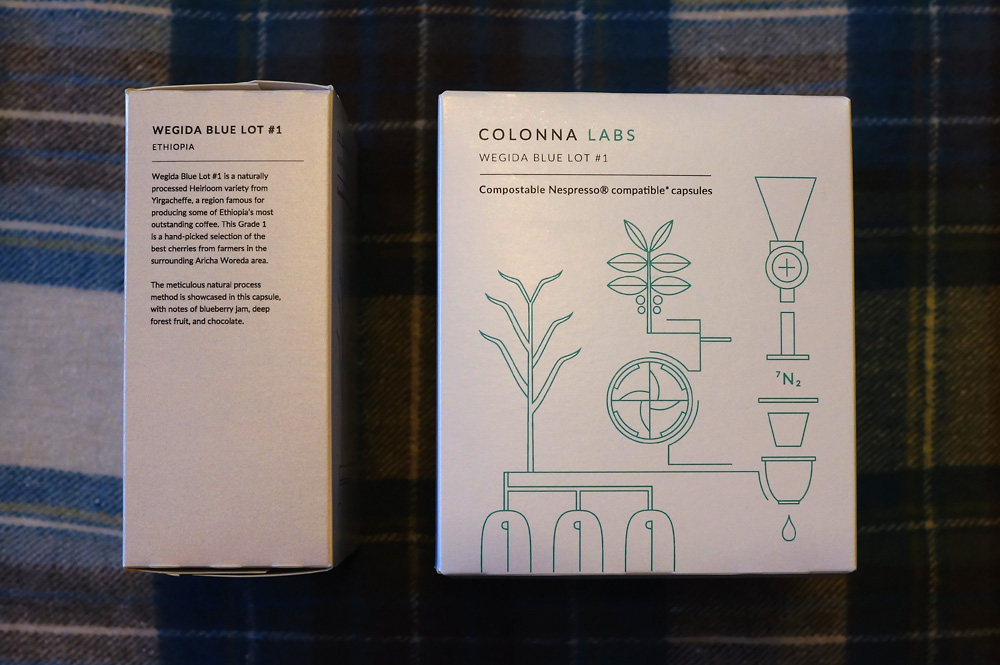 Aroma
From the first moment, it is clear that this is naturally processed coffee. The aroma has a pleasant, fruity complexity and heavier sweetness. Intense notes of forest fruits, dark cherries and sweet plums are followed by smooth chocolate. The combination of velvety sweetness and mild acidity is akin to a freshly opened jar of a dark fruit jam.
Taste
Rich, fruity sweetness and acidity of a jam made of ripe forest berries are accompanied by chocolate. The chocolate is the sweet, silky kind at first but slowly shows off the bitterness of the dark chocolate. The complex, creamy mouthfeel also has notes of sweet orange.
Extraction
Steady extraction delivers good crema. We have tested both 40 ml and 25 ml espressos. The shorter one is recommended by Colonna and makes a more intense cup of coffee.
Packaging
Minimalist bright design of the box is identical to the other Colonna capsules we have tested – Mi Bendicion. Capsules are made of compostable plastic and capped by a paper lid. This makes them biodegradable. Capsules are packaged by fives in a small compostable bag filled with protective atmosphere. This means that capsules need to be used shortly after opening to ensure the best results. Colonna promises naturally processed coffee with notes of blueberry jam, deep forest fruit and chocolate.
Notes
As with the Mi Bendicion capsules, Colonna again presents us with speciality coffee from a small producer prepared by artisan coffee roasters. This time we have here the Grade 1 beans of Ethiopian Heirloom variety from Yirgacheffe region. Coffee cherries were hand-picked and naturally processed. Yirgacheffe region lies at a high altitude (1,750 – 2,200 m.a.s.) and is known to produce exceptionally interesting and enjoyable coffee. This is precisely the case of the Wegida Blue Lot #1. Its fruity complexity is very enjoyable even for those who are not automatically fans of naturally processed coffee.