Organic Colombian by Cru Kafe
Organic Colombian by Cru Kafe has a pleasant aroma combining milk chocolate with cereals, hazelnuts and a touch of wood. The taste is creamy and sweet at the start and develops bitterness and a hint of berry acidity later.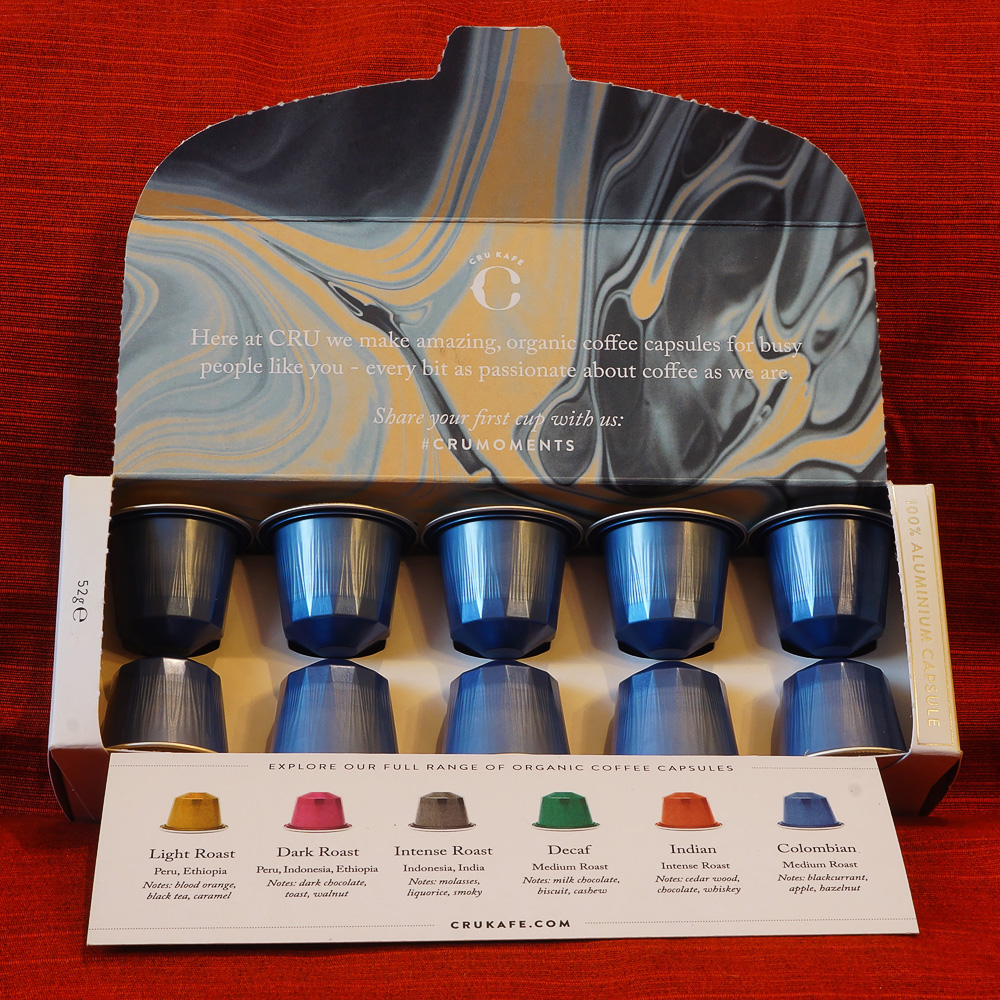 Aroma
The Organic Colombian has a mild and pleasant aroma starting with milk chocolate sweetness and a touch of cereals. These later develop to more heavier notes of malted barley, hazelnuts and wood.
Taste
The rich crema of this espresso delivers a very pleasant creaminess which combines with notes of milk chocolate in a praline-like sensation. Next comes mildly intense bitterness and a hint of berry acidity. The aftertaste brings back the creamy chocolate.
Extraction
The extraction is steady, takes noticeably longer than usual and produces tall and rich crema.
Packaging
The capsules of Organic Colombian by Cru Kafe come in a beautifully presented box with clean white design on the outside and splendid colours on the inside. The capsules are neatly packed and have a nice shape and a vibrant colour. They are made of aluminium and are fully recyclable – just empty them and collect with other aluminium trash. Cru Kafe describes the Colombian as medium roasted coffee with notes of blackcurrants, green apples and hazelnuts.
Notes
The Organic Colombian capsules by Cru Kafe contain single-origin Arabica beans sourced from organic producers in Colombia. While Cru Kafe presents this coffee as fruity and crisp, we find it be a very nice example of velvety and sweet espresso with qualities of a rich chocolate dessert.
The wholly-aluminium capsule technology used by Cru Kafe appears to be identical to that used by Colonna in Gakenke and La Independencia.