No. 6 by Espresso San Marco
No. 6 by Espresso San Marco is an edition of biodegradable capsules that allow the grounded coffee in them to become oxidized. The aroma and the taste of the resulting espresso are sharp and not too pleasant. Only rather light notes of sweet cereals and a hint of acidity are getting through.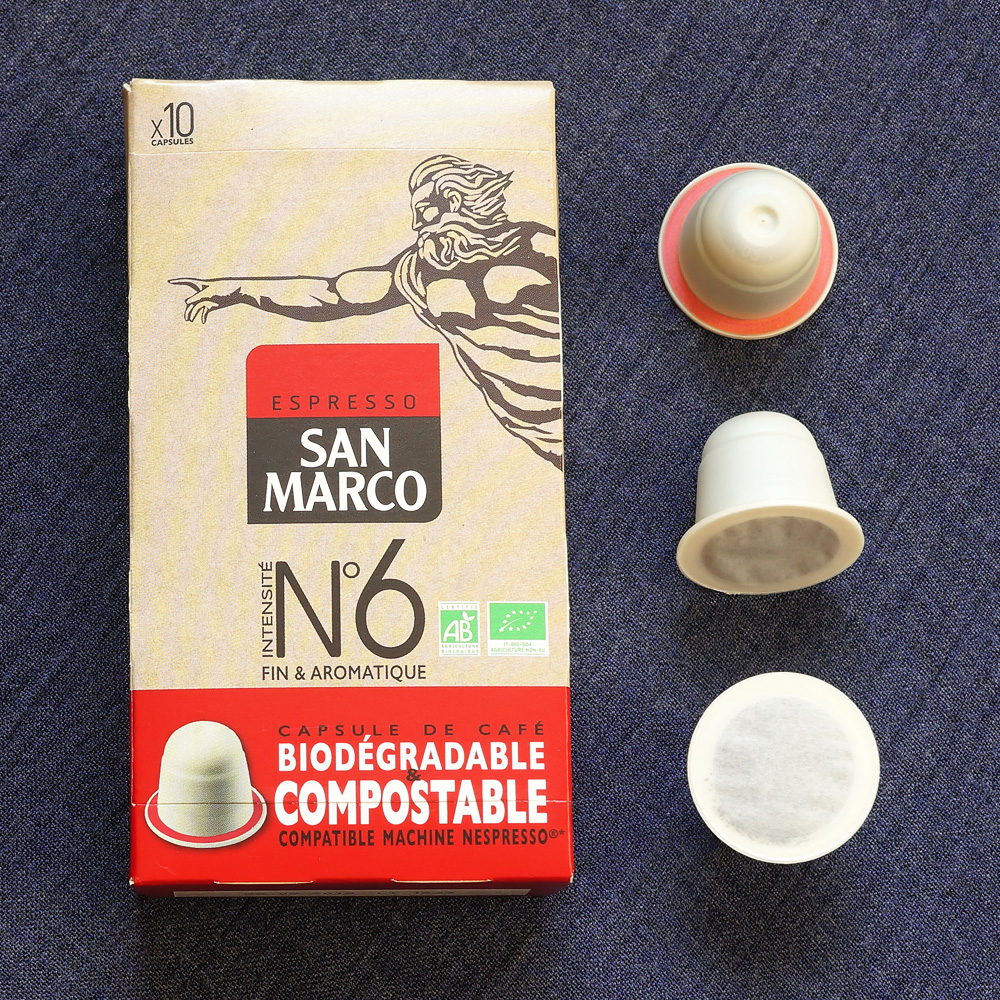 Aroma
The aroma of No. 6 surprises with its starkly sharp and not very pleasant spicy and woody start. Subtle notes of sweet cereals and malt come through only later together with a hint of acidity. However, the overall impression is of a strongly oxidised coffee.
Taste
This impression is carried over also into the taste, where unpleasant, sharp notes combine with short acidity and the lasting medicinal bitterness of over-roasted coffee beans.
Extraction
The extraction process is steady and faster than usual. The resulting crema is acceptable.
Packaging
A typically sized box with a pleasantly simple design in mostly natural-paper colours contains loosely placed capsules. The capsules are made of a hard, biodegradable material and covered by a paper lid. In No. 6, Espresso San Marco promises a fine and aromatic espresso. The intensity rating is 6.
Notes
The quality of No. 6 by Espresso San Marco is unfortunately rather far from the promise of the producer. The sharp, rather unpleasant sensory properties of this espresso are, in our opinion, caused by the strong oxidation of the coffee in the Espresso San Marco capsules. The oxidation happens because the coffee is neither hermetically sealed inside the (paper covered) capsules, nor are the capsules sealed in dedicated bags, but loosely placed in a paper box. Such dedicated bags are used to keep coffee fresh in paper-covered biodegradable capsules for example by Colonna in Wegida Blue and Mi Bendicion. San Marco capsules use the same biodegradable technology and packaging as Colombian by Eden Project with the same results.
Espresso San Marco, which is a trademark of Segafredo Zanetti, shows a great care for the environment and uses biodegradable capsules but, unfortunately, does not extend its care to the freshness of their coffee.