Costa Rica by 
Eterna
The single origin Costa Rica from Eterna makes an unusual, filtered-coffee-like cup of espresso. This is mild and sweet on the nose while creamy and balanced on the palate.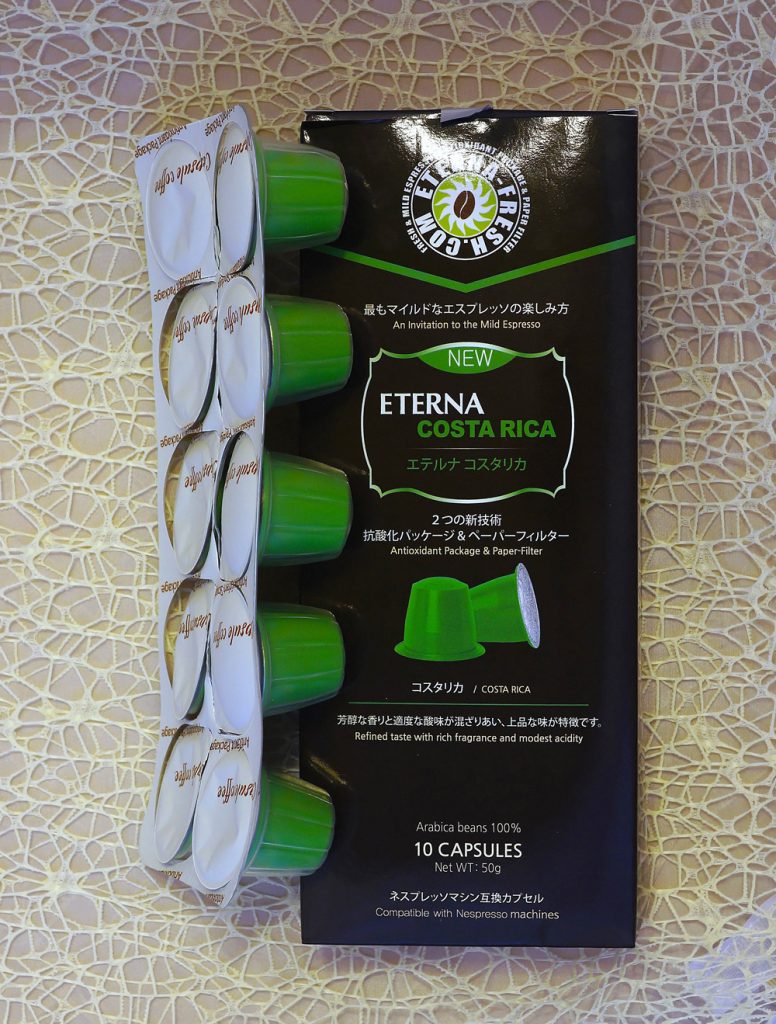 Aroma
The pleasantly mild sweetness of cereals and malted barley is followed by nuts in caramel. Cocoa bitterness and notes of cinnamon also come through.
Taste
The taste is mild and has a creamy mouthfeel of filtered (drip) coffee. Bitterness and mild acidity are subdued and well balanced. A hint of red berries and light floral notes are followed by a smooth, long-lasting aftertaste.
Extraction
The flow rate and pressure keep steady but the extraction time is shorter than usual. This results in a lower than usual amount of coffee and good crema.
Packaging
A rather large box contains plastic capsules that are untypically packaged in individually sealed plastic containers. Each capsule has special perforation on the top, hence the sealed "antioxidant" packaging. Capsules are capped first by a paper filter and then by aluminium foil. This combination of materials, together with the additional packaging, makes these capsules especially difficult to recycle. Eterna promises a mild espresso with rich fragrance and modest acidity.
Notes
Eterna Costa Rica capsules contain single origin Arabica beans. Eterna uses a very interesting capsule technology. This technology, thanks to the included paper filter that does not pierce during extraction, delivers a sensation of a speciality filtered (drip) coffee. Such a taste profile is quite unusual in the world of coffee capsules. The only downside is that filtered coffee tends to be more satisfying in larger quantities than a single espresso.