Enigma by Jones Brothers –
compostable edition
Enigma by Jones Brothers is a pleasant and well-balanced espresso. The aroma brings sweet cereals and rich spices. The taste opens up with fresh berries followed by creamy sweetness and cocoa finish.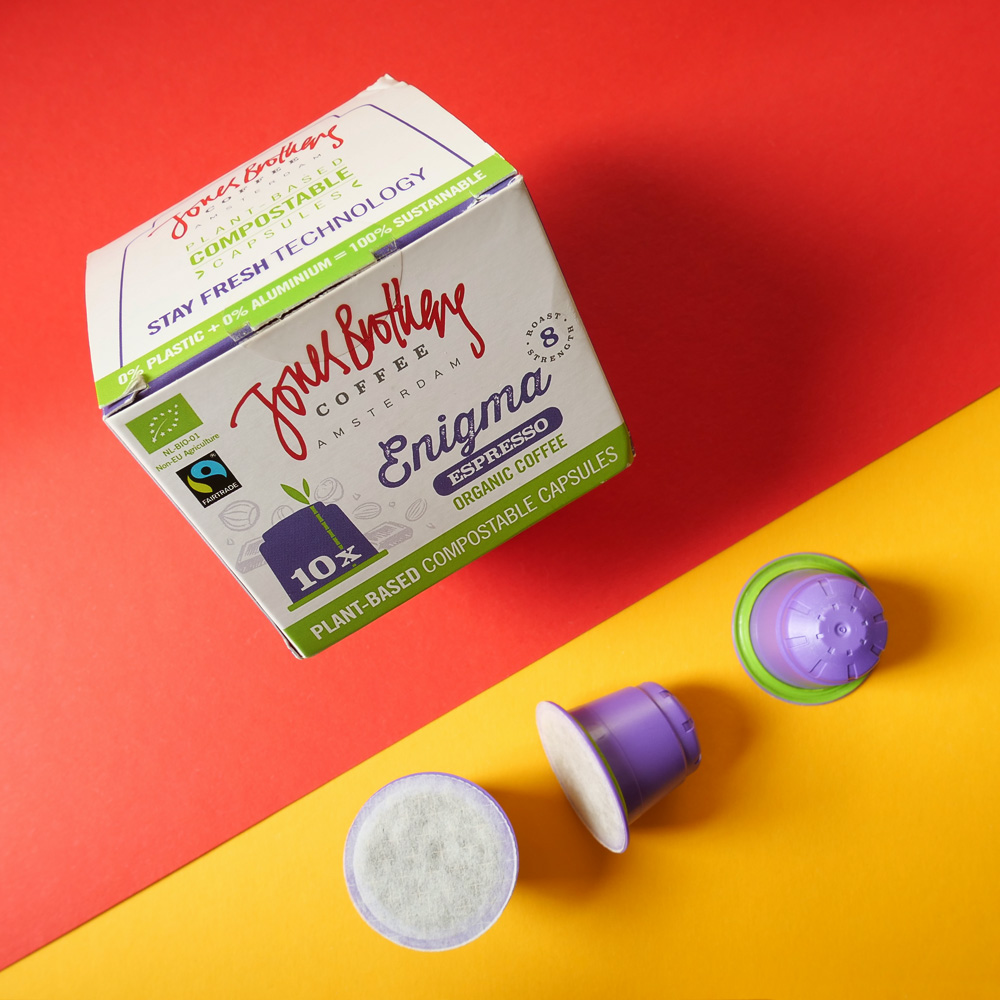 Aroma
On the nose, Enigma is mellow and pleasantly sweet. The opening notes of cereals give way to a touch of coffee bitterness and rich spices led by cinnamon and vanilla.
Taste
The taste is intense and well balanced. At the forefront is a fresh acidity of garden berries followed by creamy sweetness. The finish brings rich notes of cocoa.
Extraction
The Enigma compostable coffee capsules work flawlessly with our Nespresso coffee makers. The crema topping resulting espressos is tall and thick.
Packaging
The compostable coffee capsules of Enigma come packaged in a compact box. The capsules are made of hard, plant-based material and are covered by a fibrous, air-tight membrane. The used capsules will biologically degrade in the heat-activated compost. Jones Brothers describe Enigma as an espresso with notes of nuts, malted cereals, light fruits and cocoa. The roast strength is 8 out of 12.
Notes
The newest edition of the Enigma coffee capsules from Jones Brothers offers an excellent, modern espresso. In doing so, it continues in the great tradition of its predecessors. The latest Enigma contains a blend of organic Arabica coffee from Brazil and Mexico. The capsules are made of plant-based materials which will biologically degrade in heat-activated industrial composting plants. This biodegradable technology from The Green Ring™ features an oxygen barrier which is important for safeguarding the freshness of the grounded coffee inside the capsules. Thanks to this technology, Jones Brothers capsules achieve an excellent quality that is in contrast with paper-covered compostable capsules such as Espresso by Tegut or Espresso Fortissimo by My-coffee Cup . We will be curious to see for how long The Green Ring™ technology can keep the coffee in the capsules at its best.