New edition of Noir from Jones Brothers
The new edition of Noir by Jones Brothers offers an excellent darkly roasted espresso. The well-balanced aroma brings together sweet notes of roasted barley, cinnamon sugar and nuts in caramel, mild bitterness and the fresh acidity of sour cherries. On the palate, this full-bodied coffee is intense, creamy and pleasantly bitter. On top of it, we get toffee sweetness, citrus acidity and dark chocolate finish.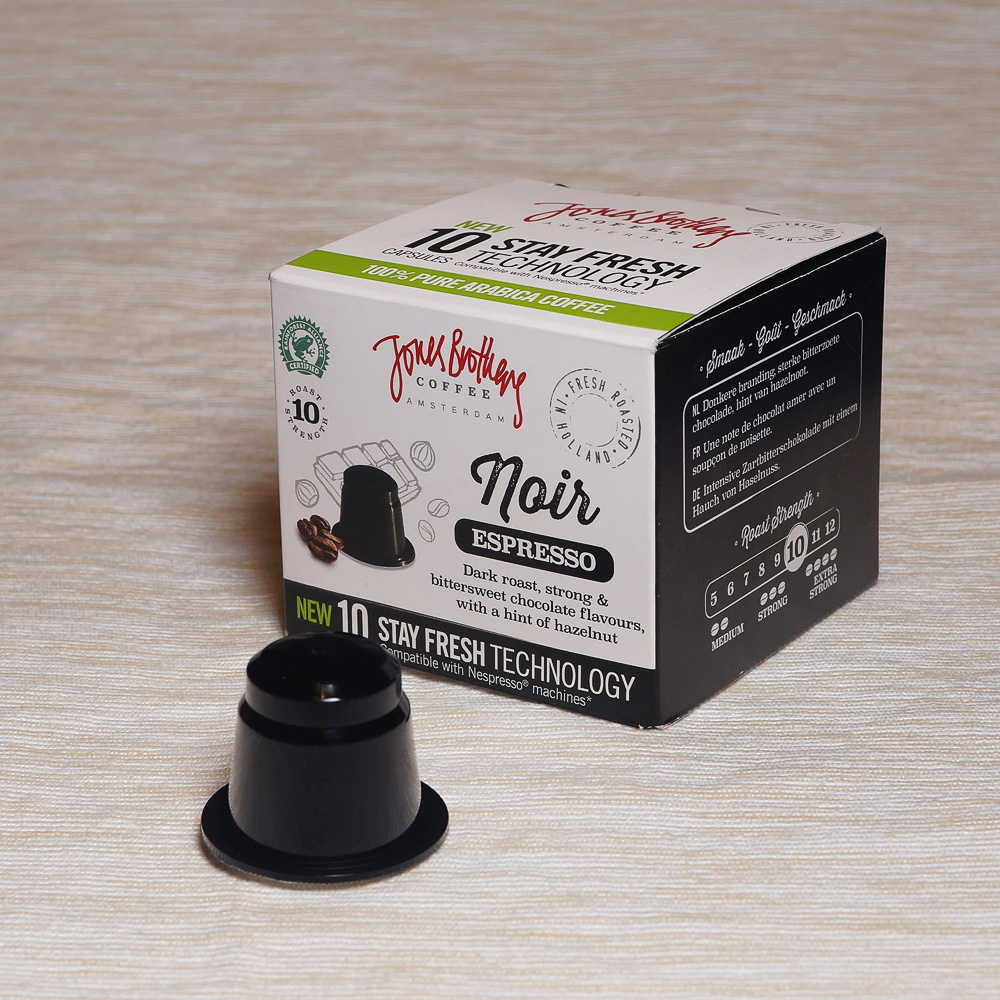 Aroma
Noir is an intense espresso with a distinctly dark, Italian roasting without any sign of burnt coffee beans. The aroma offers fragrant notes of roasted barley, nuts in caramel and cinnamon sugar. The mild bitterness of the dark roasting is well balanced by the fresh touch of sour cherries.
Taste
This espresso is full-bodied, satisfyingly intense, and has a creamy mouthfeel. While undeniably dark-roasted, its apricot-kernel bitterness is well complemented by the sweetness of toffee and acidity of limes and grapefruits. A lasting aftertaste leaves behind a dark chocolate finish.
Extraction
The extraction is steady and resulting crema is rich and tall.
Packaging
Capsules of the renewed Noir edition are neatly packed in a compact box with a modern design. The capsules are plastic and have aluminium foil cover which makes them difficult to recycle. Jones Brothers describe Noir as a strong, dark-roasted espresso with bittersweet chocolate notes and a hint of hazelnuts. The roast strength is 10 out of 12.
Notes
Noir by Jones Brothers is a bold, richly-roasted espresso done right. It is intense and full-bodied while keeping its pleasant complexity. There are no burnt or sharp notes in this cup.
Noir contains a blend of Arabica coffee from Honduras, Guatemala, Peru and Brazil. When compared to the previous edition of Noir, we can find practically all of its characteristics – and we like the balance of the new Noir even better.
Jones Brothers now use a different capsule technology and much more compact packaging than before. The new technology – named Stay fresh – should keep the ground coffee well sealed inside the capsules. It seems that the same technology is used also by Planteur des Tropiques Espresso in their Alto and Colombie capsules.