Sova (Owl) by Kafeterija
Sova by Kafeterija is a heavier espresso with an aroma of burnt toffee, cereals and nuts. The taste is sweet at the beginning but becomes intensely bitter later on.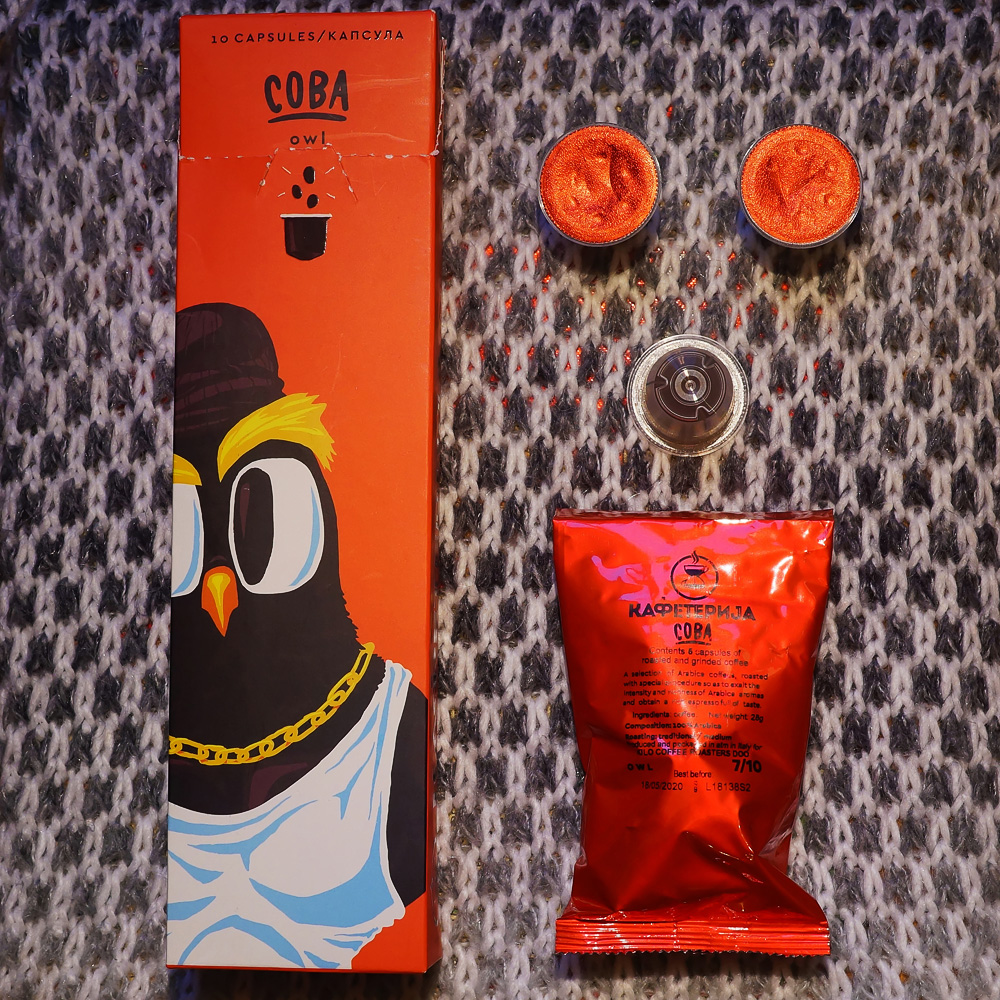 Aroma
The aroma of Sova is on the heavier side, revealing the darker roasting. In it, burnt toffee supplies the pleasant sweetness and a touch of bitterness. Moreover, notes of cereals, nuts and cocoa also come through.
Taste
The rich crema topping this espresso brings the creamy sweetness at the beginning. That becomes burnt toffee which is substituted by long-lasting medicinal bitterness. The additional hints of vanilla and roasted coconut remind us of the Vietnamese style Robusta coffee.
Extraction
The extraction process takes longer than usual but has a steady flow rate and results in a lush crema.
Packaging
Sova by Kafeterija boldly presents its original packaging with a tough owl mascot. The plastic-and-aluminium capsules come sealed in plastic bags that keep the coffee fresh. When opened, capsules should be used in a short time to achieve the best results. Capsules are not biodegradable and are difficult to recycle. The intensity rating is 7 out of 12.
Notes
The Sova edition of Kafeterija capsules represents a heavier espresso style showcasing distinct, sometimes overwhelming bitterness. While Sova is 100% Arabica coffee, it reminds us of the qualities of Vietnamese Robusta. Perhaps this has something to do with the 'special roasting procedure' employed by Kafeterija in this case.
Sova is again packaged in an original and funny way as its sister edition Zeka.