Splendente by L'Or Espresso
Splendente by L'Or Espresso is complex and rich yet smooth and mellow. Its cake-like aroma is full of sweet and juicy fruitiness and rich dark chocolate with spices. The taste combines dark cherries with dark chocolate and toffee.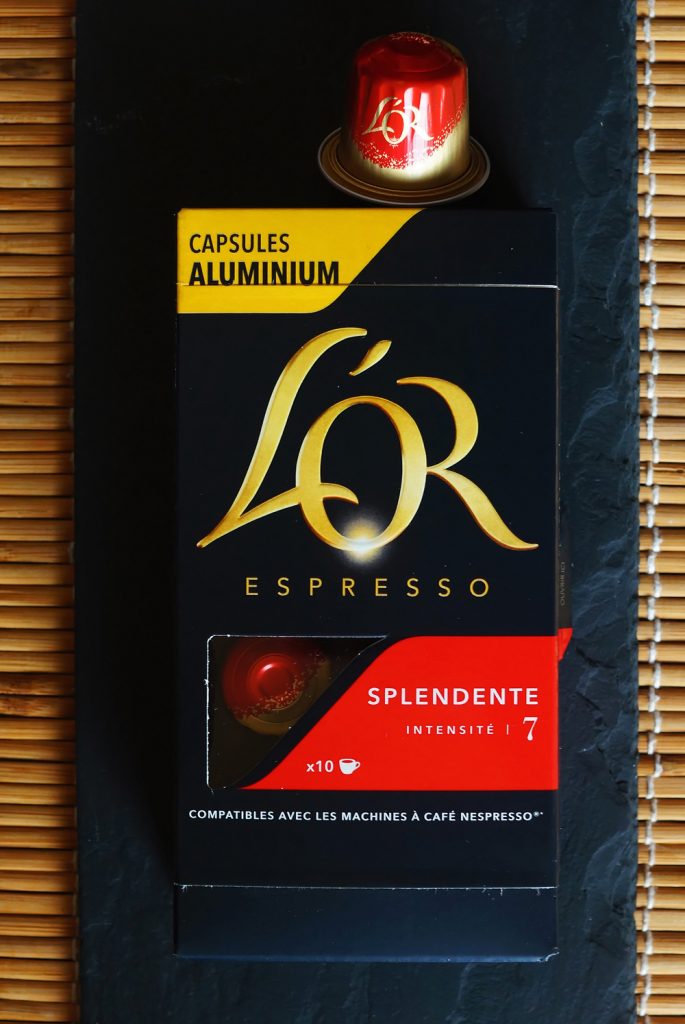 Aroma
The aroma of Splendente has the character of a rich cake. In it, the mellow sweetness of apricot jam combines with the mild acidity of dark cherries dipped in dark chocolate. All of it is nicely complemented with distinct notes of caramel and hints of vanilla and amaretto.
Taste
Dark and intense, the taste of Splendente combines sweet, fruity acidity of dark cherries and balanced bitterness of cocoa and burnt toffee. Notes of dark chocolate are present throughout and continue well into the creamy aftertaste.
Extraction
The extraction takes longer than usual and produces tall and thick crema.
Packaging
Splendente comes in yet another elegant packaging from L'Or Espresso. Capsules are made of aluminium and again visually stunning. Aluminium capsules can be emptied and collected with metal trash for recycling. They are, of course, not biodegradable. In Splendente, L'Or Espresso offers us elegant and balanced coffee with notes of hazelnuts and citrus. Intensity rating is 7.
Notes
Splendente by L'Or Espresso makes an excellent quality coffee – complex and rich yet smooth and mellow. After Supremo, Splendente is another espresso from L'Or that rivals offerings from Nespresso and other alternative producers.