Papua New Guinea by L'Or Espresso
This single origin Papua New Guinea from L'Or Espresso offers well balanced, intense espresso. The aroma of darkly roasted coffee is accompanied by sweet, fruity acidity. The taste offers pleasant herbal bitterness throughout.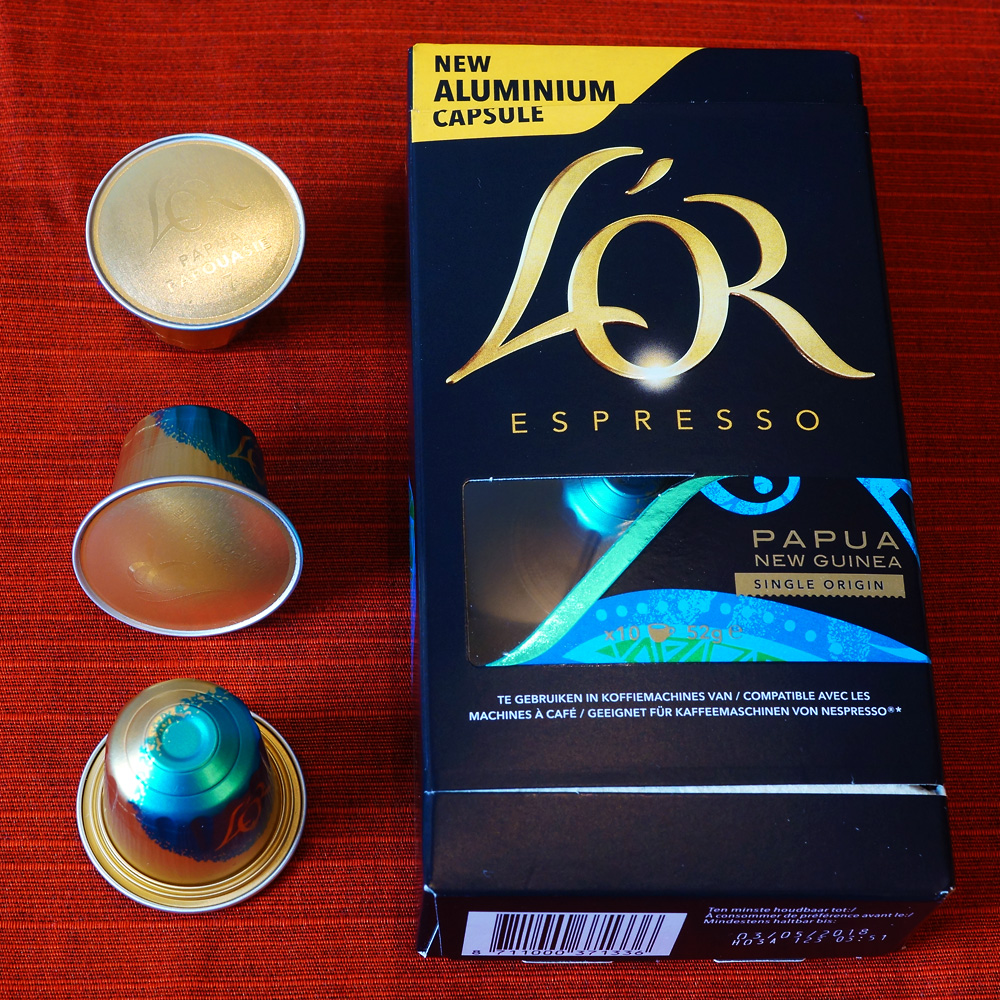 Aroma
The aroma is intense and well balanced. Bitterness of darkly roasted coffee is accompanied by sweet, fruity acidity of cherries. The finish has notes of burnt toffee, chocolate and cocoa.
Taste
Pleasant, herbal bitterness is balanced by fruity acidity of red berries. Overall, the taste is intense but nicely rounded. The herbal bitterness is present throughout and continues into the lasting aftertaste. This finishes with a hint of smoke.
Extraction
Steady extraction produces nice, tall crema.
Packaging
The box has luxury-invoking design with splendidly colourful graphics and a small transparent window. The window showcases the equally splendidly coloured capsules. Capsules are wholly made of aluminium and are destined for the decorative holder. Aluminium capsules can be recycled when emptied and collected together with other aluminium or metallic trash. The Papua New Guinea capsules by L'Or Espresso promise a pronounced, fruity taste and an aroma of sweet-wood. Intensity rating is  7.
Notes
This single origin Papua New Guinea coffee from L'Or Espresso comes in the new aluminium capsules. Aluminium capsules offer the clear benefit of the full compatibility with Nespresso® coffee machines. This compatibility results in the same, nearly flawless extraction process as with the original Nespresso® capsules. Aluminium capsules are also arguably more decorative than those made of plastic. L'Or Espresso capsules certainly have stunning design. Moreover, thanks to the aluminium trash collection or recycling schemes such as that from Nespresso®, the aluminium capsules are easier to recycle than those made from a combination of plastic and aluminium.
With the expiration of many patents covering Nespresso® technologies, we are beginning to see other brands employing them. This is also the case of the aluminium capsules. We welcome this trend which could mean the end of uneven extractions and thus an increased quality of your espressos.