Supremo by L'Or Espresso
Supremo by L'Or Espresso represents the dark roast as it should be – intense and balanced. This espresso combines rounded bitterness with velvety sweetness and subtle, fruity acidity. Supremo has all this and, as a bonus, tones of nuts and spices.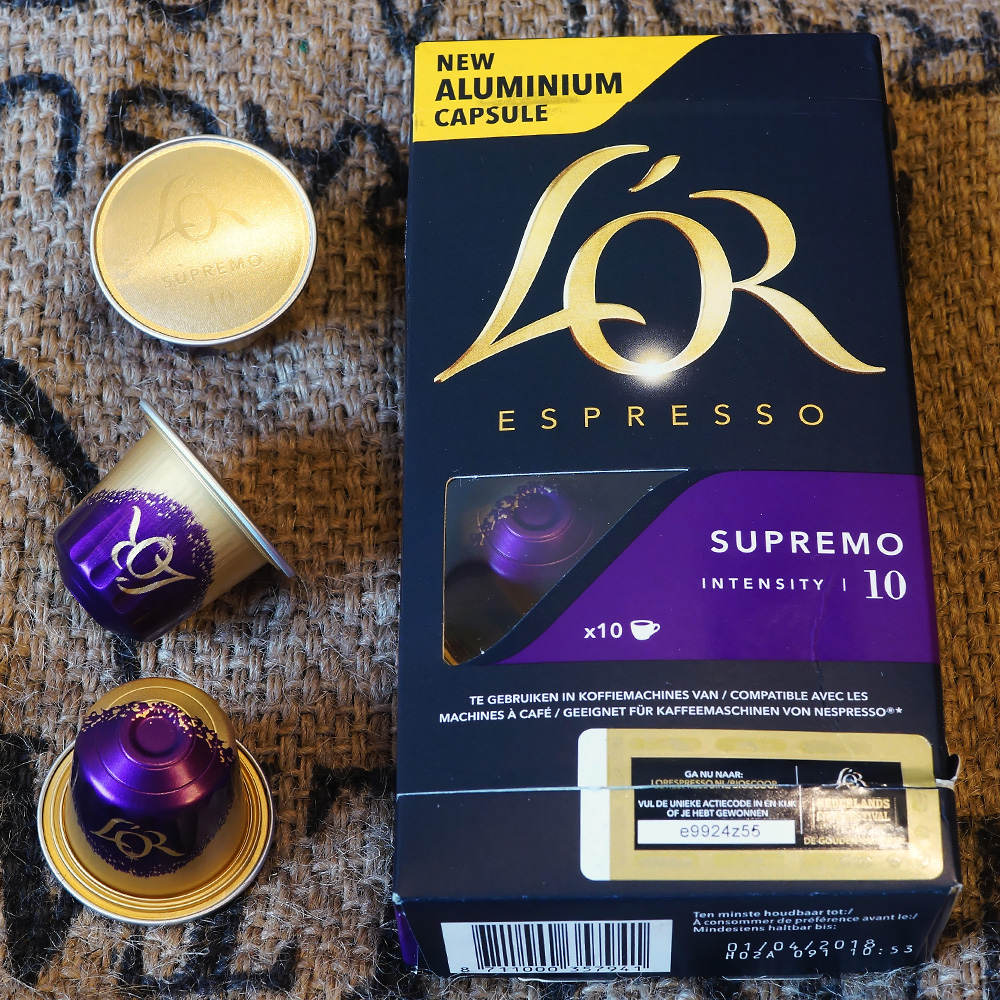 Aroma
At the start is an intense but well-balanced combination of dark roast bitterness and caramel sweetness. That is supplemented by malted barley and distinctly spicy notes. Finish is full of almonds and Amaretto.
Taste
The bold, rounded bitterness of darkly roasted coffee beans is followed by pleasant, subtle acidity of dark forest berries. The velvety body is spiced up with notes of chillies and red peppercorns. The aftertaste has tones of burnt toffee and finishes in a whiff of smoke.
Extraction
Steady, flawless extraction produces nice, tall crema.
Packaging
Dark, elegantly designed box is equipped with a small window showcasing the colourful design of the capsules. These are made entirely of aluminium and are designed for the decorative holder. Aluminium capsules can be recycled if emptied (onto compost) and collected with aluminium or metal trash. L'Or promises a powerful, spicy espresso with intense dark chocolate and nuts. Intensity rating is 10.
Notes
While the very darkly roasted coffee may not be our preferred style, Supremo by L'Or Espresso is an exception. This is an excellent example of how the dark roast should be. Supremo is bold, intense and bitter, but it is also rounded and keeps its complexity.
As in the case of Papua New Guinea by L'Or Espresso, here we again have capsules made entirely of aluminium. The aluminium capsules offer the clear benefit of full compatibility with the technology of Nespresso® machines. This compatibility means that the extraction is steady and uniform. Uniform extraction makes your favourite espresso to taste great every time.