Festive by 
Marks&Spencer
This Festive edition from Marks&Spencer truly has aromas that evoke delicacies of the festive season – gingerbread, almonds in cinnamon and spicy orange. The taste is, however, less well balanced and has a distinctly smokey finish.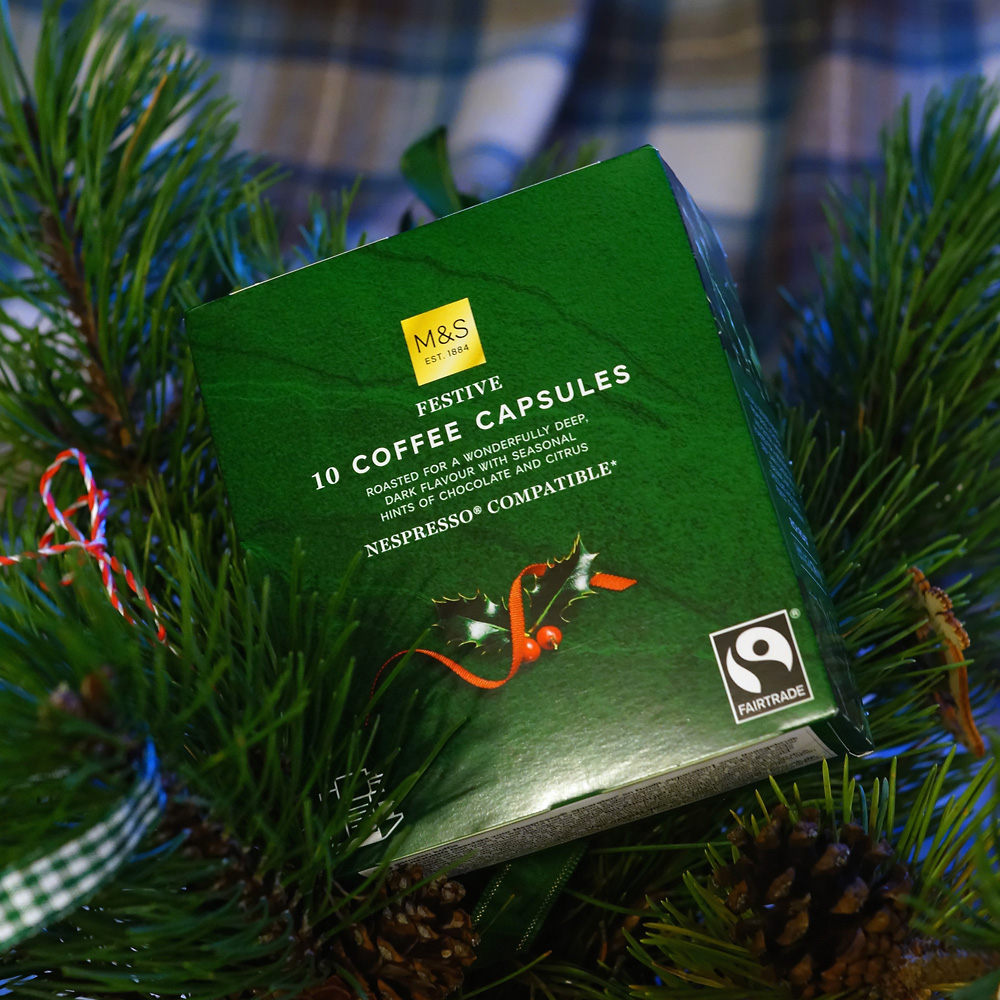 Aroma
The aroma is indeed festive – sweet&spicy. It is pleasant and mild, starting with cereal sweetness. This is accompanied by oriental notes of gingerbread, almonds in cinnamon and spicy orange. Later comes light bitterness of cocoa and dark roast and a hint of smoke.
Taste
This coffee opens with rather sharp herbal bitterness that is partially balanced by mild fruity acidity. Otherwise, the taste is somewhat flat and uninteresting, apart from light hints of cocoa, burnt toffee and red berries. It lacks the bold spicy and sweet notes we found in the aroma. The aftertaste is distinctly smokey with traces of ash.
Extraction
Steady flow and pressure deliver nice, tall crema.
Packaging
Box has simple design with festive season motives. It contains brightly coloured plastic capsules packed in two small plastic protective bags. Capsules are capped by aluminium foil. The combination of plastic and aluminium makes them not biodegradable and difficult to recycle. Marks&Spencer promises coffee with deep, dark flavour and seasonal hints of chocolate and citrus. Intensity rating is 8 out of 10.
Notes
These Marks&Spencer supermarket own-brand capsules contain a blend of Arabica beans from Brasil, Ethiopia and Central America. The make coffee with festive aromas that are especially suited for the British market and exceed the promise on the box. It is a pity then, that the taste somewhat lags behind the pleasant complexity on the nose.