Aged Sumatra by Nespresso
Aged Sumatra is a limited edition of Vintage 2016 coffee capsules from the Nespresso's Master Origins series. This coffee brings intensely earthy aromas with notes of molasses, green walnuts, wood and smoke. The taste combines the dark-roast bitterness with a touch of sweetness and complex flavours of Pu'er teas.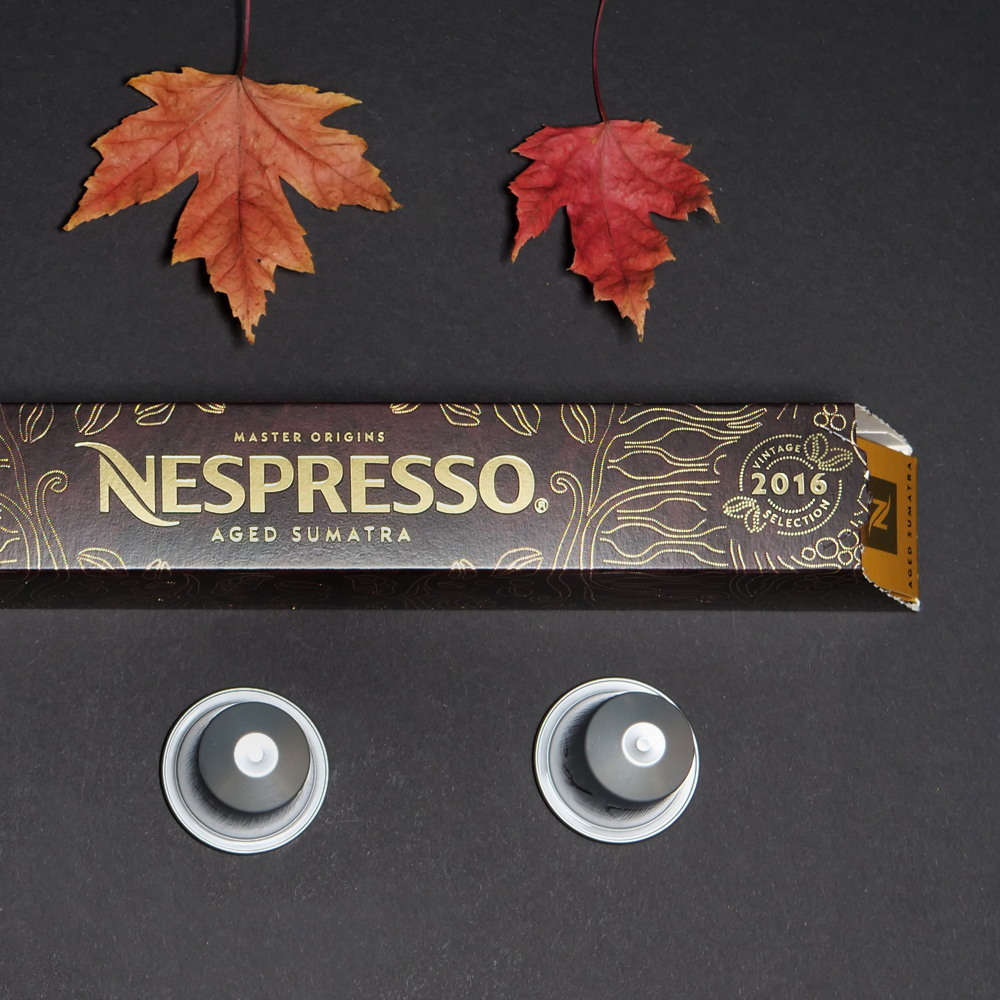 Aroma
On the nose, this aged coffee from the Indonesian island of Sumatra is intensely earthy, with the sweetness of molasses, deeply herbal notes of green walnuts, and aromas of wood and smoke.
Taste
The taste reveals clear signs of dark roasting. On the forefront are the distinct bitterness and a touch of burnt toffee sweetness. These are followed by a robust and complex body with Pu'er tea-like qualities and a mildly spicy finish.
Extraction
Flawless extraction produces rich crema.
Packaging
This Vintage 2016 Aged Sumatra special edition of Nespresso comes in a richly decorated packaging with beautiful golden ornaments. The capsules are silver, with "Aged Sumatra" lettering on them. As all Nespresso capsules, these are too made of aluminium. You can recycle them via the Nespresso collect-and-recycle scheme. Alternatively, you may empty the used capsules and dispose of them in the metal refuse. Nespresso describes this coffee as woody and spicy, with notes of darker roasting, cocoa and tobacco. The intensity rating is 7 out of 12.
Notes
In this Aged Sumatra special edition, Nespresso offers us unusually processed coffee with an interesting taste profile. These capsules from the Master Origins series contain single-origin coffee grown in the mountains of the Aceh province on the Indonesian island of Sumatra. The coffee beans were processed by the traditional wet-hulled method, which leaves them without the perchment. After the processing, the coffee was aged for three years in breathable bags, changing its moisture content with the Sumatran seasons.
The roasting process was also atypical. Two portions of the coffee beans were roasted separately to different roast levels – a lighter roast accentuating the woody and sweet notes and a dark roast increasing the intensity.
The resulting espresso is undisputably distinct, with the complex earthy notes that are also sought-after in the Pu'er teas. However, we find the roasting level of Aged Sumatra by Nespresso to be somewhat on the darker side when compared with other Indonesian coffee capsules, such as Sumatra by Jones Brothers, Sumatra from Roastworks Coffee Co., or Indonesia from the Colonna Bartender Series.