Arpeggio Decaffeinato by Nespresso
Arpeggio Decaffeinato by Nespresso is a well-balanced 'decaf' espresso with a cake-like aroma combining caramel, cocoa and almonds. The intense taste brings together bitterness of cocoa and almonds, sweet toffee and fresh red berries.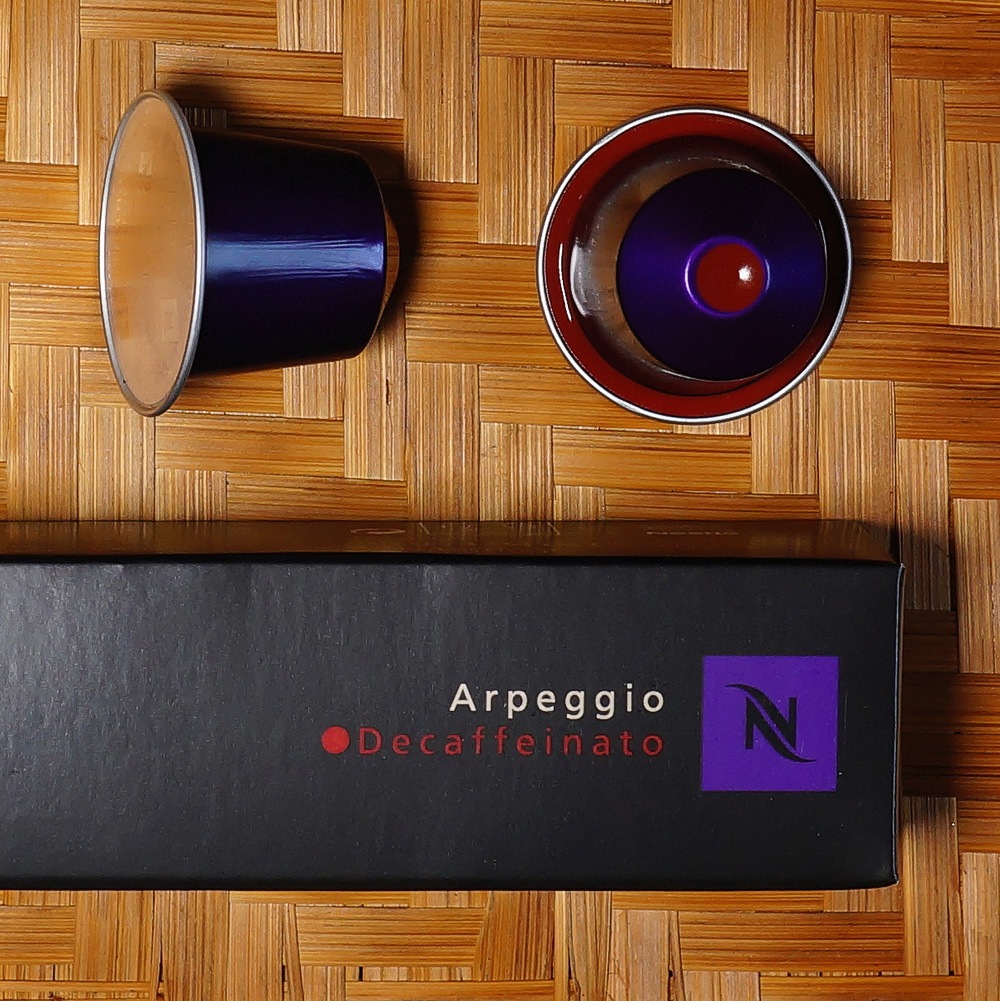 Aroma
Arpeggio Decaffeinato has a pleasantly balanced aroma that brings caramel sweetness, cocoa bitterness and a touch of acidity. On top of that, notes of almonds and vanilla reinforce the cake-like feeling. The darker roasting reveals itself at the end.
Taste
The taste is intense and full, with the distinct Italian-roast qualities. At the forefront is the rich bitterness of almonds and dark cocoa. These are balanced by toffee sweetness and a fresh touch of red berries.
Extraction
The extraction is steady, producing tall, darker-hue crema.
This decaffeinated version of the classic Arpeggio capsules from Nespresso is a very good example of 'decaf' done right.
Packaging
Arpeggio Decaffeinato capsules sport the same colour as the classic Arpeggio, but with the red dot that typically indicates the Nespresso decaffeinated editions. The aluminium capsules are easy to recycle if you make use of the Nespresso recycling scheme. You may also dispose of the emptied capsules in the metal refuse. Nespresso describes this coffee as rich and creamy, with distinct cocoa notes. The intensity rating is 9 out of 12.
Notes
Arpeggio Decaffeinato is another in the series of well done decaffeinated coffee capsules from Nespresso. Together with Ristretto Decaffeinato and Volluto Decaffeinato, this Latin American Arabica is an excellent choice for those looking for quality espresso without the 'kick'.