Capriccio by Nespresso
Capriccio from the Espresso edition by Nespresso has a low-intensity aroma combining cereals with the darker-roast bitterness. The taste balances a pleasant citrusy acidity with the bitterness of burnt toffee and cocoa.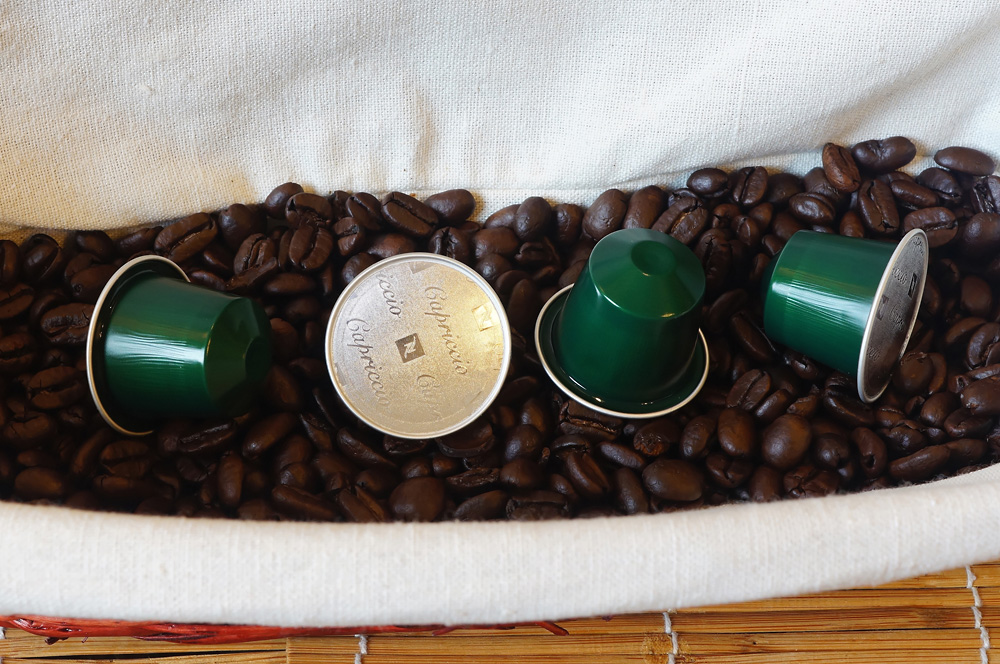 Aroma
Capriccio by Nespresso has a low-intensity aroma of cereals and malt combined with heavier, darker-roast bitterness. Light, floral notes and hints of caramel, spices and nuts also come through.
Taste
Capriccio opens up with the pleasant acidity of limes and grapefruits that is balanced by the sweet-and-bitter burnt toffee. This bitterness later becomes dominated by cocoa and herbal notes. Overall, the taste is somewhat flat while the finish is short and creamy.
Extraction
The extraction is consistent and produces nice tall crema.
Packaging
The typical, slim Nespresso sleeve contains fully-aluminium, brightly coloured capsules. These are not biodegradable but can be recycled either by returning them to Nespresso or by emptying and collecting with metal trash. Capriccio by Nespresso promises coffee with light acidity and notes of cereals. Intensity rating is 5.
Notes
Capriccio capsules contain Arabica beans from South America combined with a small amount of Robusta. This blend represents a typical, well done if a little uninspiring offering from Nespresso. Capriccio, together with most of the standard Nespresso editions is already a considerable time on the market. While Capriccio keeps its very good quality and certainly has its long-time fans, it starts to lack behind the more innovative capsules from other producers, such as Colonna, Jones Brothers, República or Roastworks.