Colombia by Nespresso
The first review of capsules from the new Nespresso series, the Master Origin, is here. The new single-origin Colombia replaces the well-received Rosabaya de Colombia and successfully continues in its legacy. The aroma of Colombia is pleasant, intense, complex and sweet. Its taste brings together fresh and juicy acidity with creamy sweetness and subtle bitterness.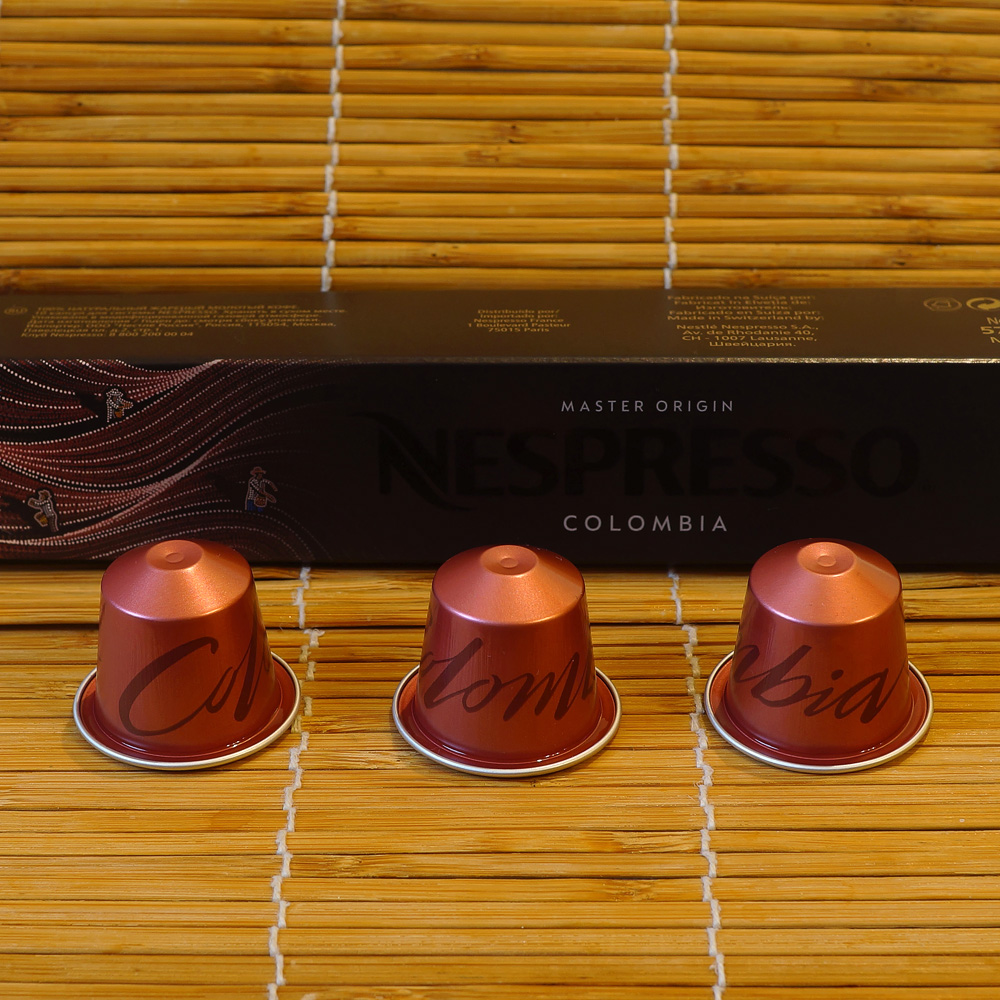 Aroma
On the nose, this Colombia is pleasant, intense and complex, but most of all sweet. Dark demerara sugar and the candy sweetness of mascherano cocktail cherries are mellowed by the light acidity of ripe blackberries. Rich dark cocoa, heavier cascara (coffee cherry flesh) notes, a touch of liquorice and a hint of smoke all contribute to this aromatic concert.
Taste
The taste of this full-bodied espresso brings fresher tones than its aroma. The juicy acidity on the palate combines the lightness of forest berries with the dry grapefruit. The balance is provided by creamy sweetness and the mild bitterness of cocoa, together with the notes of darker-roasted coffee beans.
Extraction
The extraction process is flawless and faster than usual, producing nice and tall crema. The faster flow-rate probably results from the new grinding used by Nespresso in the Master Origin capsules which can be now used to make both espresso and lungo.
Packaging
The typical, dark and slim Nespresso box contains aluminium capsules in a shiny copper finish with 'Colombia' spelt on them—a worthy addition to our decorative capsule holders. The aluminium capsules are non-biodegradable but can be recycled either through the Nespresso recycling scheme or emptied and collected with metal refuse. Nespresso describes Colombia as sparklingly fresh coffee with intense winey notes of red berries. The intensity rating is 6 out of 12.
Notes
The new, single-origin Colombia by Nespresso successfully follows the legacy of Rosabaya de Colombia from the phased-out Pure Origin series. The Master Origin Colombia makes exquisitely fresh and complex espresso. It contains purely Arabica coffee beans that are harvested late when the coffee cherries are most ripe. That imprints this Colombia with its rich fruitiness and also brings out the heavier cascara notes in its aroma.
The quality and complexity of the Master Origin Colombia are on a par with artisan roaster offerings, such as Kenya by Roastworks, La Independencia by Colonna or Enigma Espresso by Jones Brothers.