Indriya from India by Nespresso
Indriya from India is a single-origin edition of Nespresso capsules from their outgoing Pure Origin collection. Indriya showcases its nice, dark roast character in both the aroma and the taste. On the nose, this espresso is intense, sweet and spicy. Its taste brings herbal bitterness, creamy sweetness and mild, fruity acidity.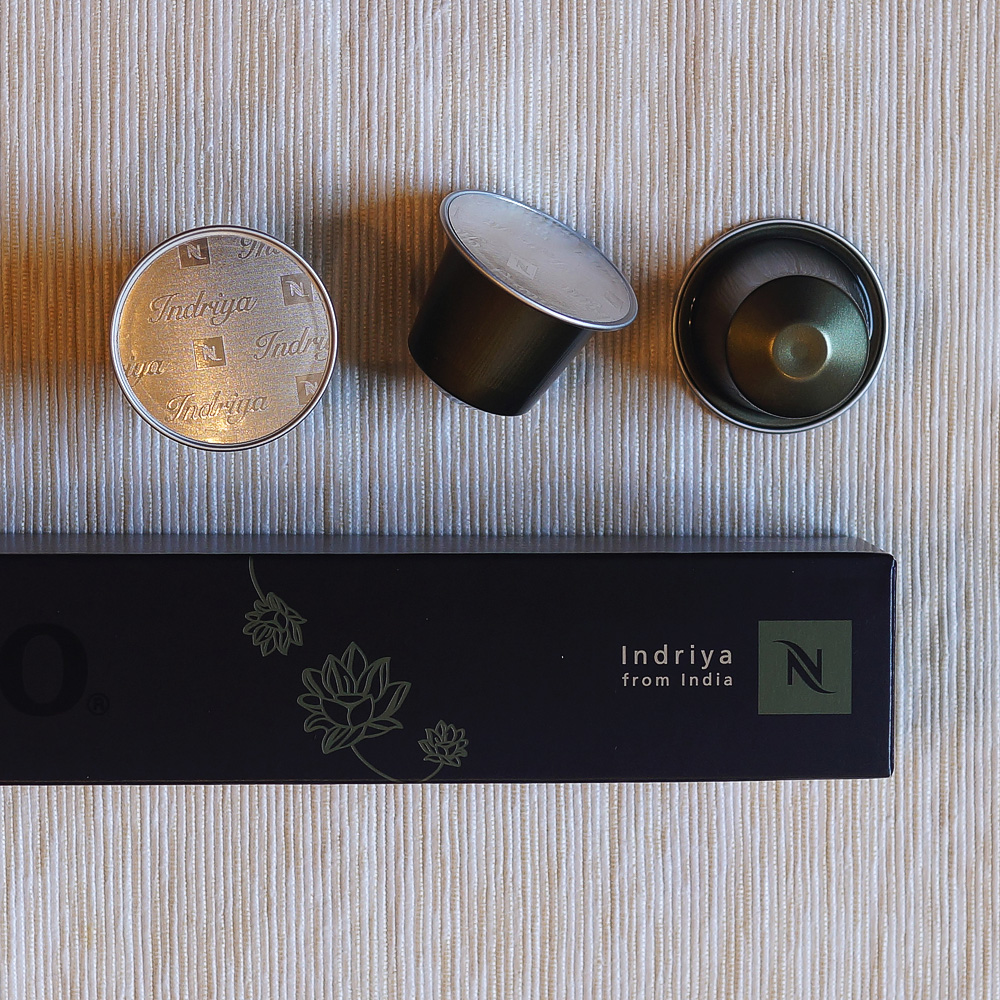 Aroma
Indriya is clearly darkly roasted coffee. Its intense aroma is pleasant, richly sweet and spicy. Dark molasses and burnt toffee in it combine with cinnamon and cloves. The second aromatic layer is brought by roasted barley, cocoa, the light acidity of raw cocoa beans and a touch of woodiness.
Taste
This India is pleasant, well balanced and unmistakably darkly roasted. Its herbal bitterness combines with creamy sweetness and mild acidity of red berries. The lasting aftertaste brings herbal bitterness and a hint of smoke.
Extraction
The extraction process is flawless and delivers a large amount of rich crema.
Packaging
The aluminium capsules of Indriya come in the typical Nespresso sleeve box decorated with a floral graphic pattern. The capsules are recyclable either via the Nespresso recycling scheme or when emptied and collected with metal waste. Nespresso describes Indriya as a full-bodied espresso with distinct notes of cocoa, cloves, black pepper and nutmeg.
Notes
Indriya from India contains a blend of richly roasted Arabica and Robusta beans from South India which makes a traditional, intense cup of espresso. The dominant yet still pleasant herbal acidity and the plethora of exotic spices bring this coffee close to its sister edition Ristretto or the other well-done dark roasts such as Forza or Supremo from L'Or Espresso and Armonioso, Supremo or Magnifico by Pellini Espresso.
Indriya is a part of the Pure Origin range of single-origin Nespresso coffee capsules which are being phased out. Instead of Indriya, we can look forward to the new India edition from the new, Master Origin, range.