Rosabaya de Colombia by Nespresso
Rosabaya de Colombia by Nespresso has a heavier aroma combining caramel, cocoa, spices and floral notes. The taste is well balanced, offering citrus acidity, cocoa bitterness and creamy sweetness.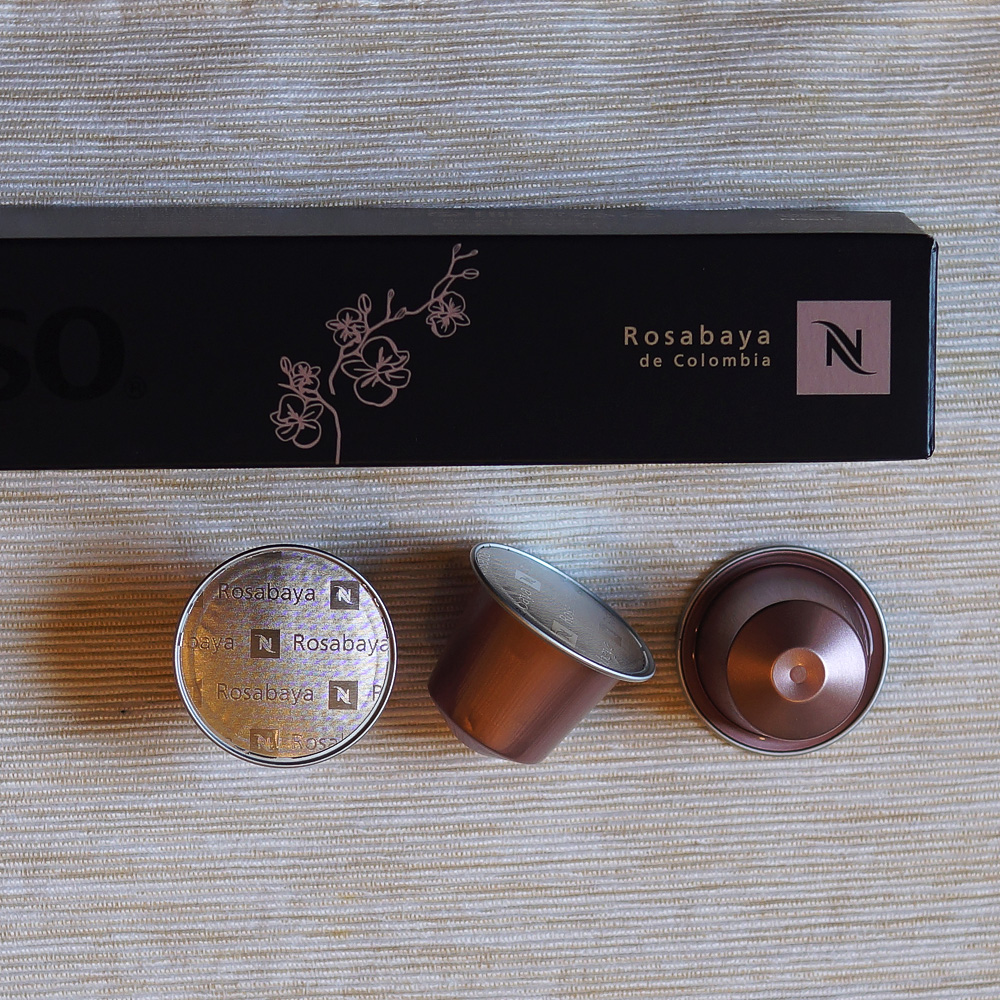 Aroma
Rosabaya has a heavier aroma which brings together caramel sweetness, cocoa, spices and fragrant floral notes. A hint of cascara – the coffee cherry flesh – ads light acidity and a bit of stuffiness.
Taste
Pleasantly intense and well balanced, the sweet lemon and lime acidity of Rosabaya de Colombia pairs well with its dry, cocoa bitterness and creamy sweetness.
Extraction
The typically flawless extraction produces ample amount of thick crema.
Packaging
The slim and elegant Nespresso packaging with a floral pattern contains aluminium capsules in the rose-gold finish which are made to star in decorative holders. The capsules can be recycled either by collecting with metal waste (emptied) or via the Nespresso recycling scheme. Nespresso describes Rosabaya as coffee with subtle, winey acidity of red berries. The intensity rating is 6.
Notes
Rosabaya contains washed Arabica beans from Colombia. Its distinct acidity makes Rosabaya an unusual offering in the Nespresso line-up. It will appeal to those, who enjoy the modern, fruity espresso style.
Rosabaya de Colombia capsules are currently being phased out from Nespresso Grands Crus offer, together with the entire Pure Origin line. Instead, Nespresso prepared a new line – Master Origin – which brings a new Colombia edition. Hopefully, upcoming Colombia will continue in the strong legacy of Rosabaya.