Alto by Planteur des Tropiques Espresso
The mild aroma of Alto by Planteur des Tropiques Espresso offers a combination of heavier bitterness and cereal sweetness. The taste is zesty and balanced by herbal bitterness and notes of cocoa.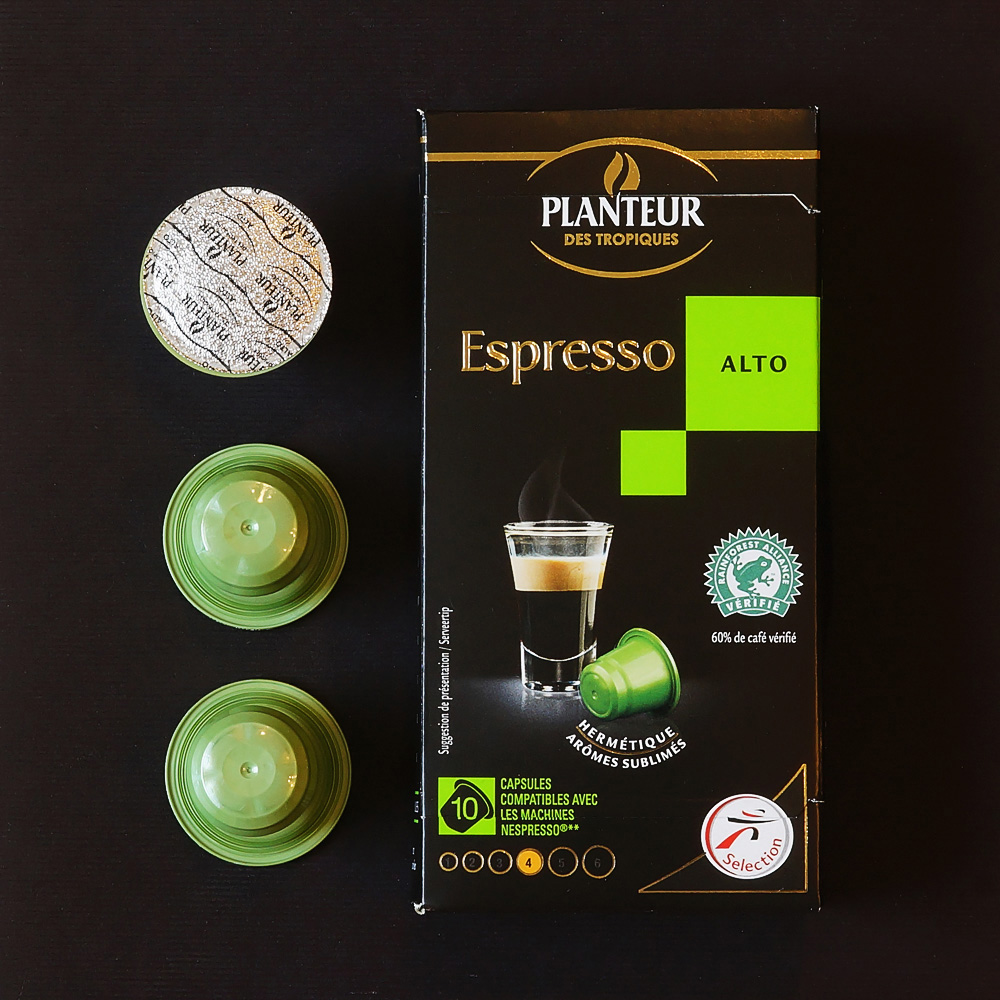 Aroma
Alto has a mildly intense aroma. In it, the heavier, dark-roast bitterness is balanced by cereal sweetness while burnt toffee and slightly peppery notes add a touch of complexity.
Taste
The taste of Alto opens up with a sharper acidity of zesty lemon which is followed by herbal bitterness and enriching notes of cocoa and spices. The finish offers hints of roasted cocoa nibs.
Extraction
The extraction is generally flawless, producing a good amount of crema. However, if one of the extraction needles hints one of the tinny supports in the capsule top, then the pressure and flow rate may vary. This is also the case of Colombie by Planteur des Tropiques Espresso.
Packaging
A typically-sized dark box contains nicely coloured plastic capsules. These are covered by aluminium foil, which makes them non-biodegradable and difficult to recycle. Planteur des Tropiques describes Alto as a sublime espresso with notes of cocoa and malt and 'palate of various flavours that plunges you into a wave of sweetness enriched by woody aromas'. The intensity rating is 4 out of 6.
Notes
After Colombie, Alto is another edition of capsules from Planteur des Tropiques Espresso which we had a chance to review. Alto capsules contain a blend of pure Arabica beans and make a good cup of coffee. However, after the excellent Colombie, we perhaps had a little higher expectations from this edition of Intermarche supermarket own-brand range of capsules.