Planteur des Tropiques Espresso by Colombie
Colombie by Planteur des Tropiques Espresso offers a great, refreshing cup of espresso. It has an aroma of sweet cereals, zesty citrus and creamy chocolate that is complemented by well-balanced, sweet citrus acidity and velvety sweetness on the palate.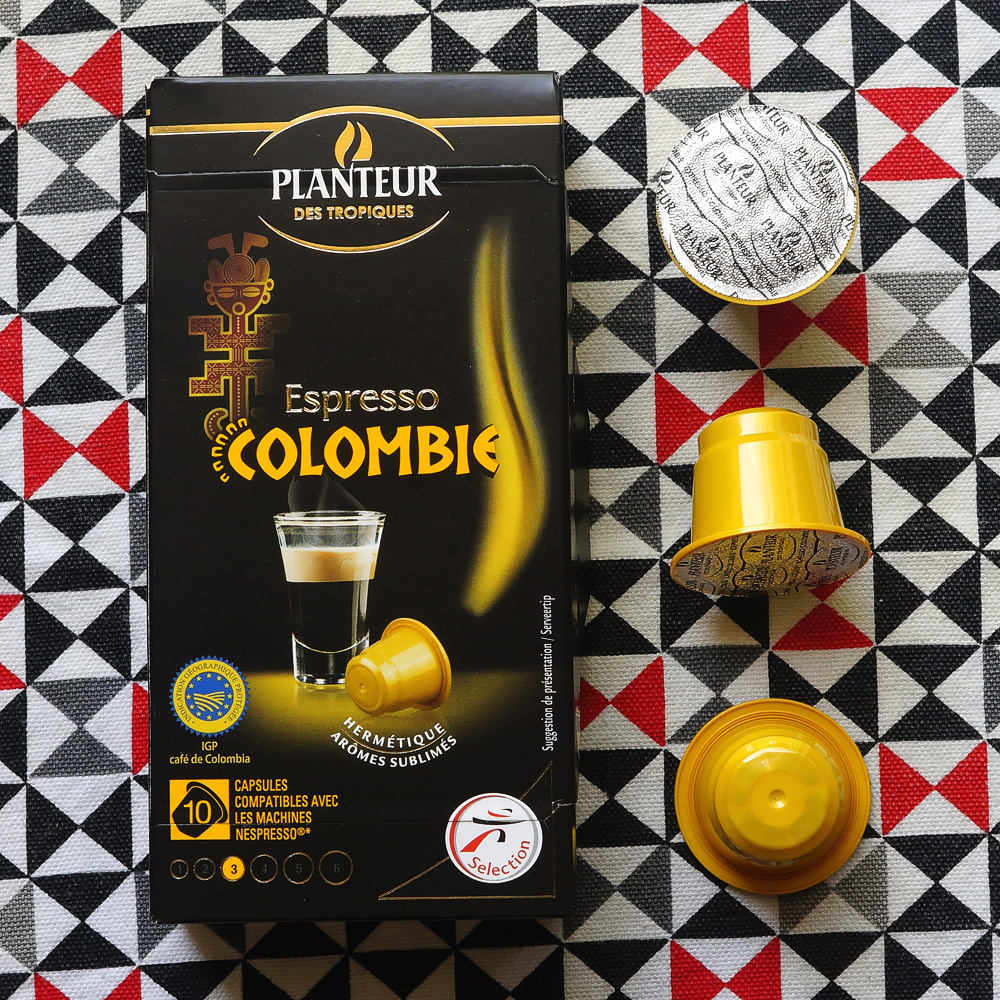 Aroma
This Colombia successfully balances the fresh acidity of sweet lime and green apple with heavier notes of malt and wood. Aromas of sweet cereals, zesty citrus and creamy chocolate conjure an image of a rich lemon cheesecake.
Taste
The taste of this espresso nicely complements its aroma. It offers a pleasant, well-balanced combination of zesty and sweet citrus acidity and creamy sweetness. The velvety aftertaste is full of notes of cocoa and chocolate.
Extraction
The extraction is generally consistent. However, occasional pressure variations occur in instances when one of the extraction needles hits one of the small bulkheads that support the top of the capsules. Crema is always thick and tall.
Packaging
The typically-sized dark box of Planteur des Tropiques Espresso contains brightly coloured plastic capsules. These are enclosed by aluminium foil, which makes the capsules non-biodegradable and difficult to recycle. Planteur des Tropiques promises us coffee with subtle character and typical aromas. The intensity rating is 3 out of 6.
Notes
These capsules from Planteur des Tropiques Espresso contain washed single-origin Arabica beans from Colombia. While their packaging does not provide any information about the flavour profile of this espresso, we are pleasantly surprised by its excellent quality. The citrusy character of this Colombia is refreshingly pleasant. Even more surprising might be the fact that Planteur des Tropiques Espresso is an own-brand of Intermarché supermarkets. A fact that is only subtly mentioned on the packaging.
The capsule technology of Planteur des Tropiques works mostly quite well. However, in some instances, one of the (three) Nespresso machine extraction needles hits one of the four small bulkheads supporting the top of these capsules. In such a case the pressure and flow rate may vary during the extraction process.