Kenya by Roastworks Coffee Co.
The Kigutha Estate Kenya by Roastworks Coffee Co. produces an excellent modern espresso showcasing rich fruitiness and bold cocoa. The aroma brings the fig jam sweetness and the pleasant acidity of ripe garden fruits while the taste offers zesty and sweet limes and grapefruits.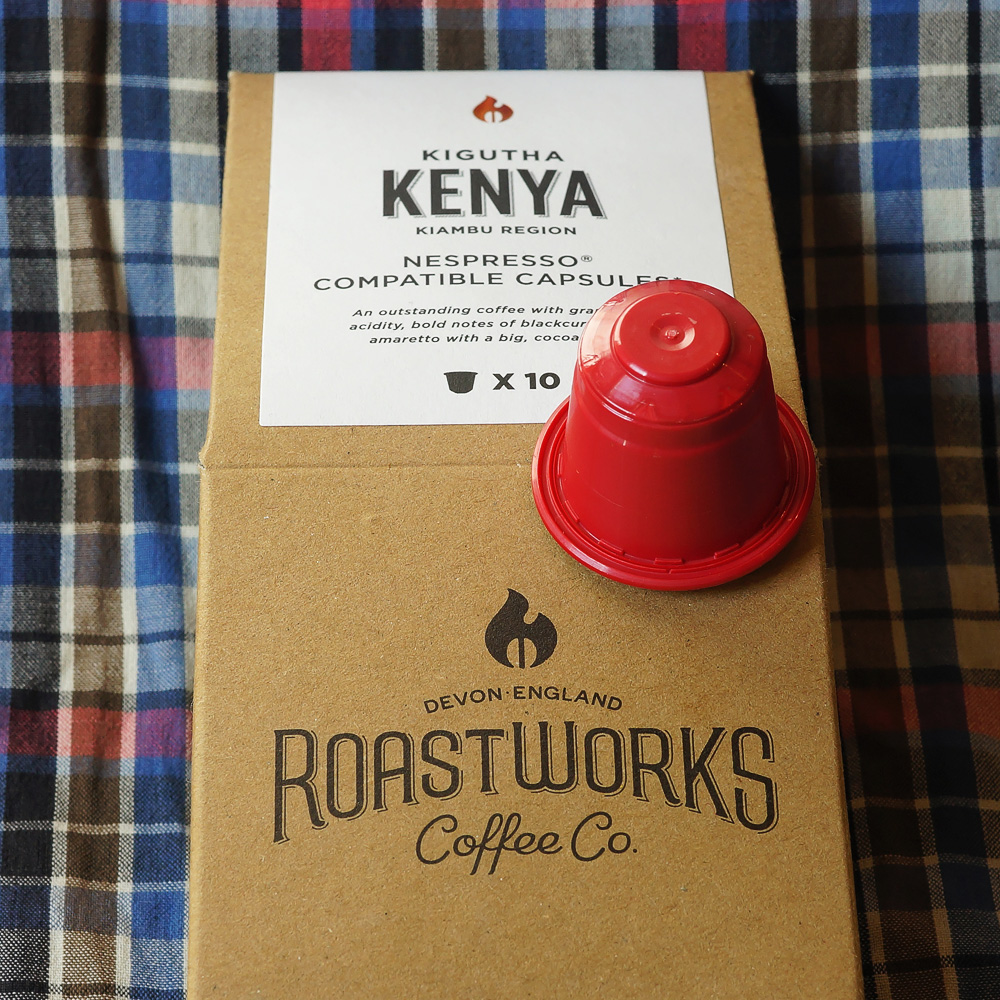 Aroma
The wonderfully fruity aroma of this Kenya brings forward the sweetness of fig jam and the light acidity of ripe garden fruits-cherries, plums and blackberries. This fruitiness is complemented by lush cocoa, smooth marzipan, a touch of orange peel and a dusting of cinnamon.
Taste
On the palate, we are greeted with a combination of intense, fruity acidity of sweet lime and fragrant grapefruit and rich cocoa. Moreover, the grapefruit together with the cocoa leave a touch of pleasantly dry bitterness in the longlasting aftertaste.
Extraction
As with the previous Roastworks Coffee Co. capsules The Espresso, we had again problems with the extremely slow extraction process which sometimes even stops. The resulting crema is rich and tall.
Packaging
The plastic, aluminium covered Roastworks Coffee Co. capsules come in a recognizable box made of recycled paper. Capsules are non-biodegradable and due to the used combination of materials difficult to recycle. The description at the box informs us that we should expect a coffee with grapefruit acidity and notes of black currents, amaretto and bold cocoa.
Notes
As with the Sumatra and The Espresso capsules, Roastworks Coffee Co. give us a wealth of information about this excellent single-origin Kenya. We have here fully-washed SL28 varietal of Arabica grown at Kigutha Estate at an altitude of 1700 m a.s.l. As Roastworks Coffee Co. rightfully claim, this coffee showcases the best qualities of Kenyan beans-the rich fruitiness of berries and the fragrant acidity of grapefruits. A truly exquisite cup of espresso. If only the capsules would perform better.