Sumatra by Roastworks Coffee Co.
Sumatra by Roastworks Coffee Co. is an exceptionally complex espresso offering well-balanced sweetness and juicy acidity of ripe fruits in combination with light cocoa bitterness.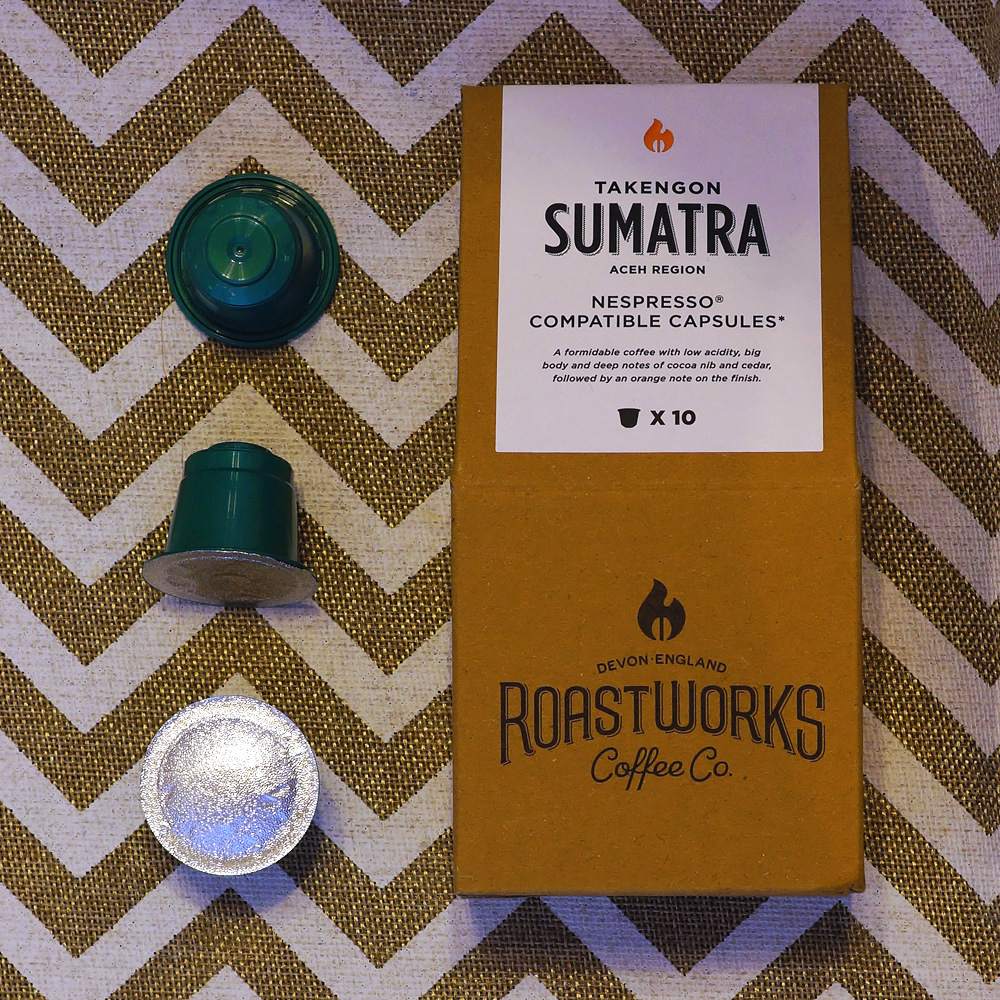 Aroma
On the nose is the very pleasant sweetness of breakfast cereals balanced by the fruitiness of ripe plums. This is accompanied by distinct notes of cocoa and nuts.
Taste
The initial hint of cocoa bitterness is followed by light sweetness and mellow acidity of ripe red berries. Red berries are followed by juicy oranges and grapefruits and a silky butterscotch aftertaste.
Extraction
Steady pressure and a longer than usual extraction result in very nice tall crema.
Packaging
Handicraft-like packaging made of unpretentious cardboard contains plastic capsules covered by aluminium foil. This makes them non-biodegradable and difficult to recycle. Roastworks Coffee Co. offers every detail about their coffee beans. Thanks to this we know that they used Bourbon and P88 Arabica varieties grown at high-altitude (1600-1800 m a.s.l.) small holdings in the Takengon region in Aceh on the island of Sumatra in Indonesia. The processing method is wet-hulled which is typical for Indonesia. Roastworks Coffee Co. promise big-bodied low acidity coffee with bold flavours of cocoa nib and cedar wood followed by orange and peppery notes. There is no intensity rating stated on the packaging.
Notes
This is speciality roaster coffee delivered in capsules that can be conveniently picked up from the shelves of (British) supermarkets. It makes a wonderfully rich modern espresso that showcases the very best of Indonesian coffee. Roastworks Coffee Co. offer us even more stunning espresso than the fellow Sumatran coffee from Jones Brothers.
The wet-hulled processing method dries the coffee beans in two stages and leaves them without the perchment. It gives this coffee its rounded bold body and fruity complexity, yet leaves just enough of the juicy acidity. This makes the Roastworks Coffee Co. Sumatra a great coffee on a par with another speciality roaster capsules we reviewed – the Mi Bendicion from Colonna. While this edition from Roastworks Coffee Co. does not use bio-degradable technology like Colonna, it can be bought in supermarkets, in contrast to the Colonna capsules.