The Espresso by Roastworks Coffee Co.
The Espresso by Roastworks Coffee Co. is an intense and rich modern espresso. Its aroma combines fruity acidity and pleasant sweetness of plum jam with the dark chocolate. The full-bodied taste is in concert with its aroma, contributing a home-made apricot preserve and bold, dark cocoa.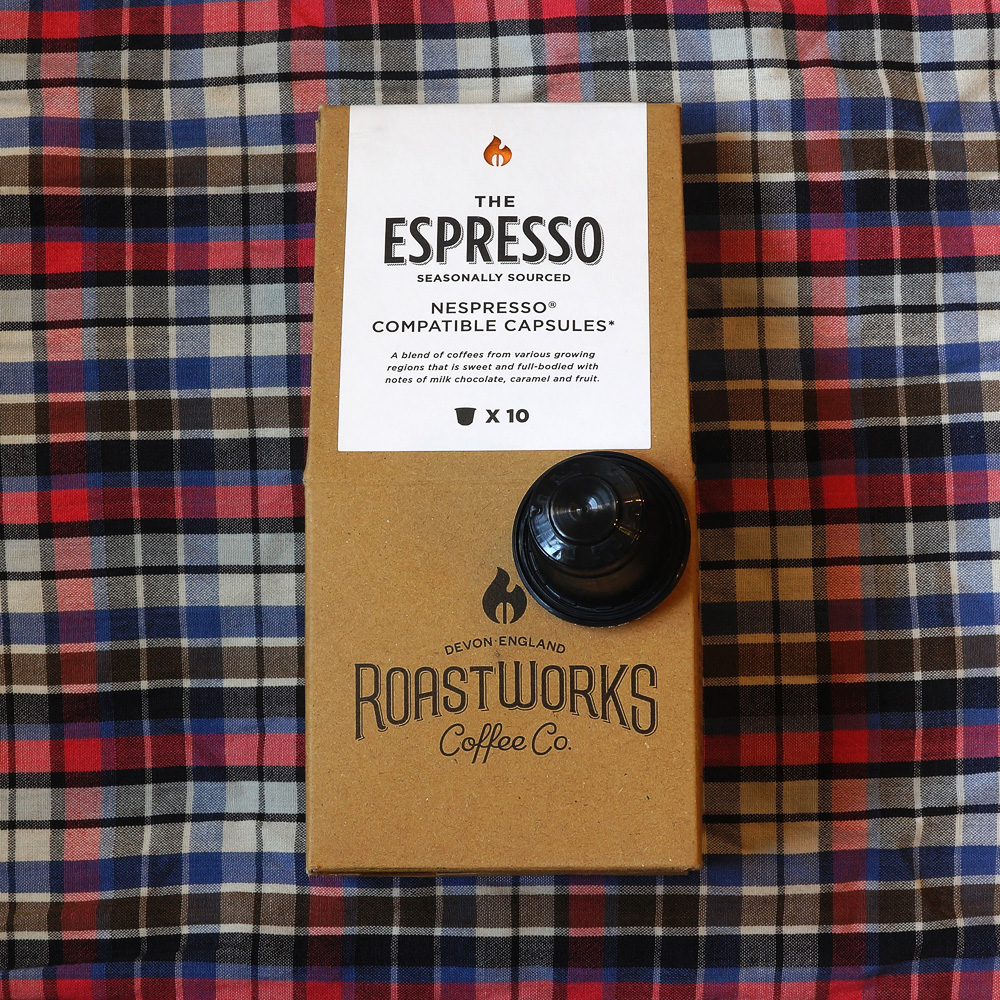 Aroma
The Espresso has an intense and satisfyingly rich aroma of home-made plum jam – lightly acidic and pleasantly sweet. Dark chocolate, a pinch of spices and a hint of amaretto add further layers of complexity.
Taste
The taste is well balanced and offers a creamy mouthfeel. At the start are the rich, fruity acidity and the light sweetness of jams made of apricots and plums. These are followed by bold, dark cocoa and a hint of liquorice.
Extraction
The extraction is painfully slow, sometimes stopping intermittently. Resulting crema is mostly nicely tall.
Packaging
The black plastic capsules of The Espresso come in a simple box made of recycled paper. Capsules are capped with aluminium foil and are thus non-biodegradable and difficult to recycle. As in the case of Sumatra, Roastworks Coffee Co. again offer us a plenty of information about their coffee. We should expect a rich, sweet espresso with great acidity and notes of milk chocolate and red fruits.
Notes
Roastworks Coffee Co. changes theirs The Espresso edition with time. The reviewed version contains a blend of naturally processed Brazil Monte Cristo and Ethiopia Hambella, which give The Espresso its full-bodied fruitiness. The third component in this blend is washed Guatemala Pico Mayor, bringing its cocoa and chocolate into the mix.
After Sumatra, this is another impressive espresso from Roastworks Coffee Co.. It is bold, complex, rich and full-bodied – precisely as the modern, speciality coffee should be. The only drawback of these excellent capsules is their performance. The extraction process is troublesome on both our Nespresso machines. The top of capsules often fails to fully collapse, causing the extremely slow flow rates. These problems are the same which we encountered with the Colonna capsules from the end of 2017 – Musasa Nkara Rwanda and Los Robles Guatemala. The Espresso by Roastworks Coffee Co., which is from the same period, uses the same capsule technology as the Colonna capsules. This gives us hope that the current problems with the extraction are only due to a faulty capsule batch and that Roastworks Coffee Co. capsules will perform better in the future.