Butter Pecan Cookies, Snack by Yardstick Coffee
The Butter Pecan Cookies edition of the Snack capsules by Yardstick Coffee makes an exquisite modern espresso. Its mellow and well-balanced aroma brings together toffee sweetness, sweet acidity of blueberries and notes of cashew and pecan nuts. The taste combines juicy apple acidity with rich nougat.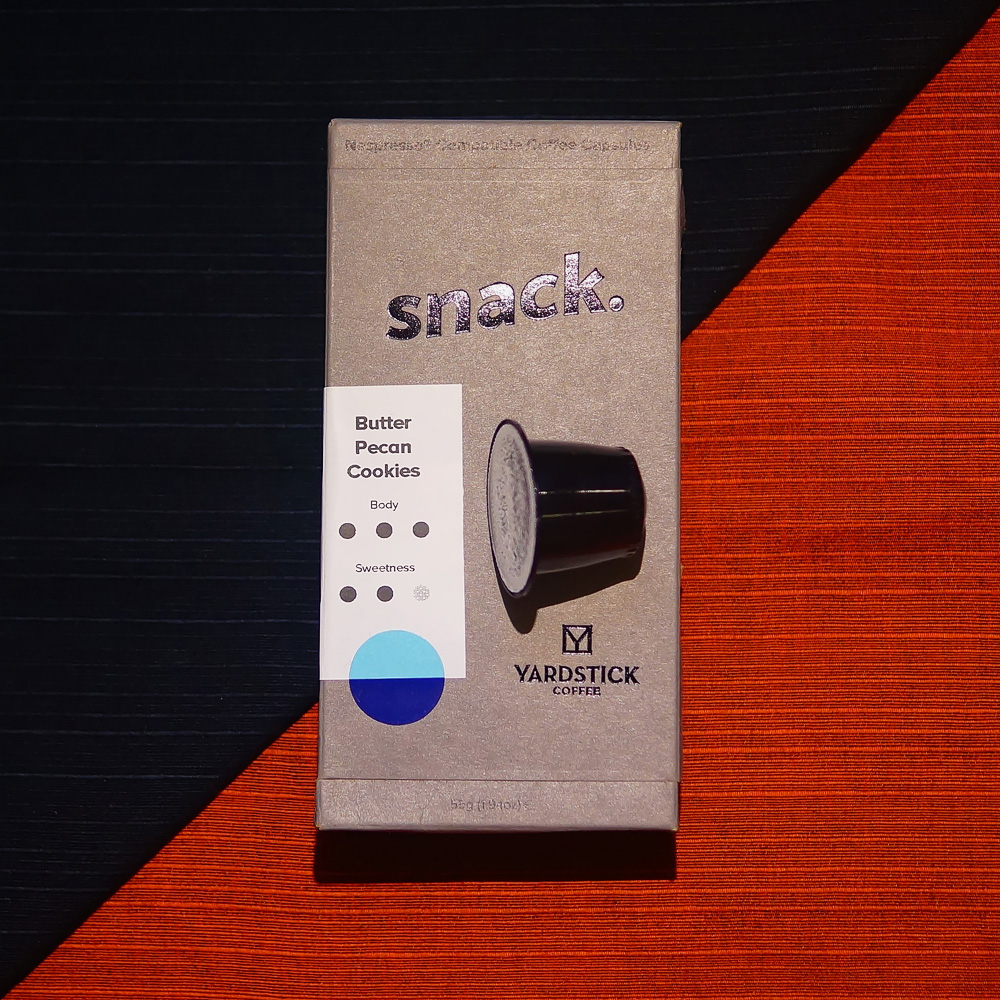 Aroma
The aroma of this espresso is mellow, pleasant and well balanced. Its toffee sweetness goes well with the sweet acidity of blueberries and notes of cashew and pecan nuts.
Taste
On the palate, Butter Pecan Cookies Snack brings even more exciting experience. Its taste is intense and successfully bringing together juicy acidity of apples with the rich gianduja nougat which is sweet, smooth but most of all full of dark cocoa notes.
Extraction
The extraction works well, has a slow but steady flow and delivers a good amount of crema.
Packaging
The Snack-branded Yardstick Coffee capsules come in an unpretentious grey box with modern design elements. Capsules are made of plastic covered by aluminium. As such, they are not biodegradable and are difficult to recycle. As the name of this edition suggests, we should expect flavours of butter pecan cookies.
Notes
In the Snack capsules, Yardstick Coffee offers us speciality coffee in a fun and appetizing form. Even more importantly, this artisan roaster gives us in the Butter Pecan Cookies edition something to enjoy indeed – an excellent modern espresso. The qualities of this coffee are similar to Gakenke by Colonna or Honduras by Jones Brothers.
The capsules contain single-origin Arabica from Rodomunho farm in Brasil. The beans of the Red Catuai varietal were naturally processed which highlights their sweetness. An espresso prepared with 25 grams of the brewed liquid brings out the best qualities of the Brasil coffee – its full-bodied sweetness and nutty flavours.
We have been offered this edition of Snack capsules by Yardstick Coffee for a review. However, we have not received any benefit from Yardstick Coffee or any other party, apart from this free box of capsules.