Lemon Cherry Bar, Snack by Yardstick Coffee
Lemon Cherry Bar is an edition of Snack-branded capsules from artisan roaster Yardstick Coffee. This coffee has an aroma of delicate lemon cheesecake and a sparkling taste of fresh cherries and sweet limes.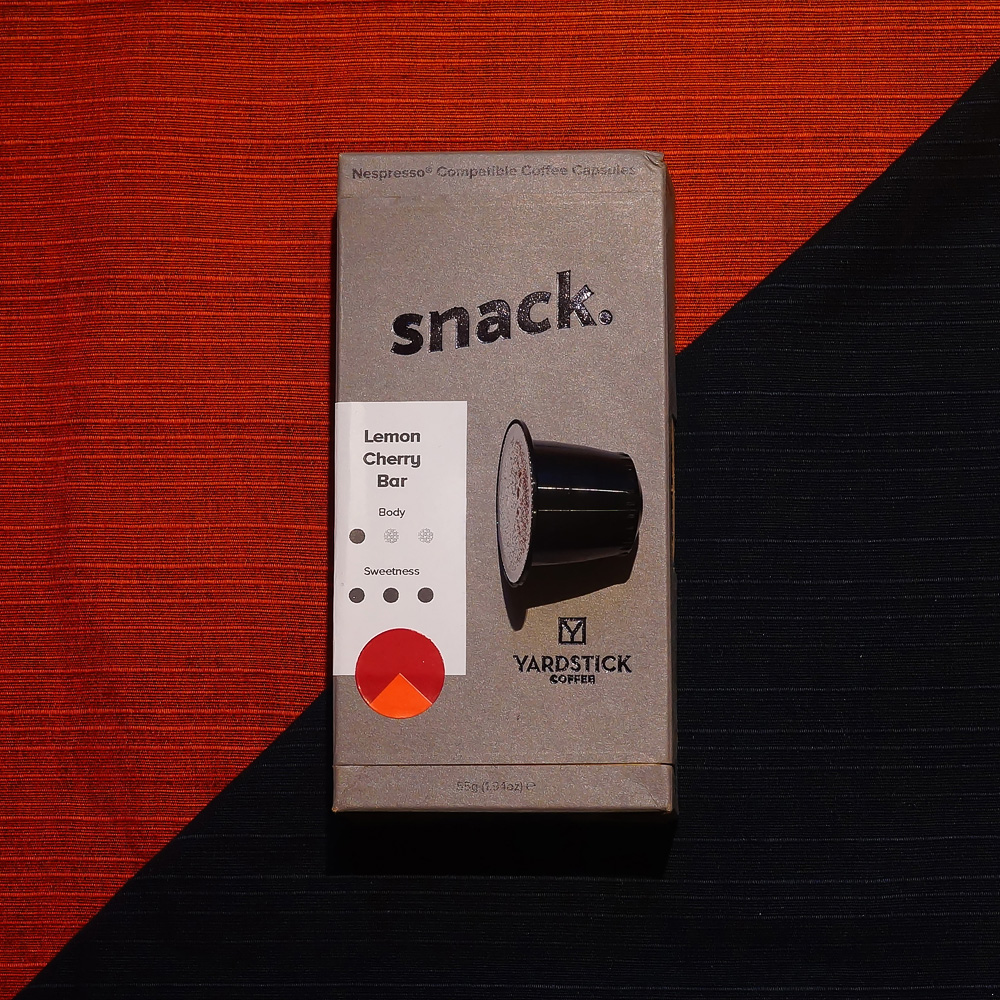 Aroma
On the nose, Lemon Cherry Bar reminds us of fragrant lemon cheesecake. Its delicate lemon-peel aroma seamlessly bonds with the sweet and creamy marzipan and a touch of cocoa.
Taste
The taste of this espresso is sparklingly fresh, offering an exquisite union of juicy cherries and sweet limes. This bold fruitiness is balanced by silky milk chocolate and a touch of dry, orange-peel bitterness.
Extraction
The flow rate is very slow but steady, and the resulting crema is rich.
Packaging
The Lemon Cherry Bar edition of Snack capsules by Yardstick Coffee is packaged in a grey box with clean, modern design. Capsules combine plastic and aluminium and are thus non-biodegradable and difficult to recycle. From this espresso, we should expect ripe cherries and lemony sweetness.
Notes
Lemon Cherry Bar capsules represent another excellent example of modern, lightly roasted espressos from Yardstick Coffee. This one is intensely fresh and will delight those who enjoy sparkling acidity in their coffee cups. Lemon Cherry Bar contains washed single-origin Arabica from Colombian producer Ignacio Arias. Its qualities are on par with its sister edition Butter Pecan Cookies and with such excellent Colombian-coffee capsules as La Independencia by Colonna or the Master Origin edition of Colombia by Nespresso.
The capsule technology used by Yardstick Coffee appears to be identical to that used by the French artisan roaster Terres de Café in their Yeti Moka Bio, Tico or Planadas Bio capsules.
We have been offered this edition of Snack capsules by Yardstick Coffee for a review. However, we have not received any benefit from Yardstick Coffee or any other party, apart from this free box of capsules.