Citrus Gold Kenya by Taylors
This new edition of Kenya single origin coffee by Taylors makes an espresso with a pleasantly sweet aroma of malt and toffee and intense citrusy acidity. It is somewhat unbalanced and does not reach the quality of the previous edition of Taylors Kenya.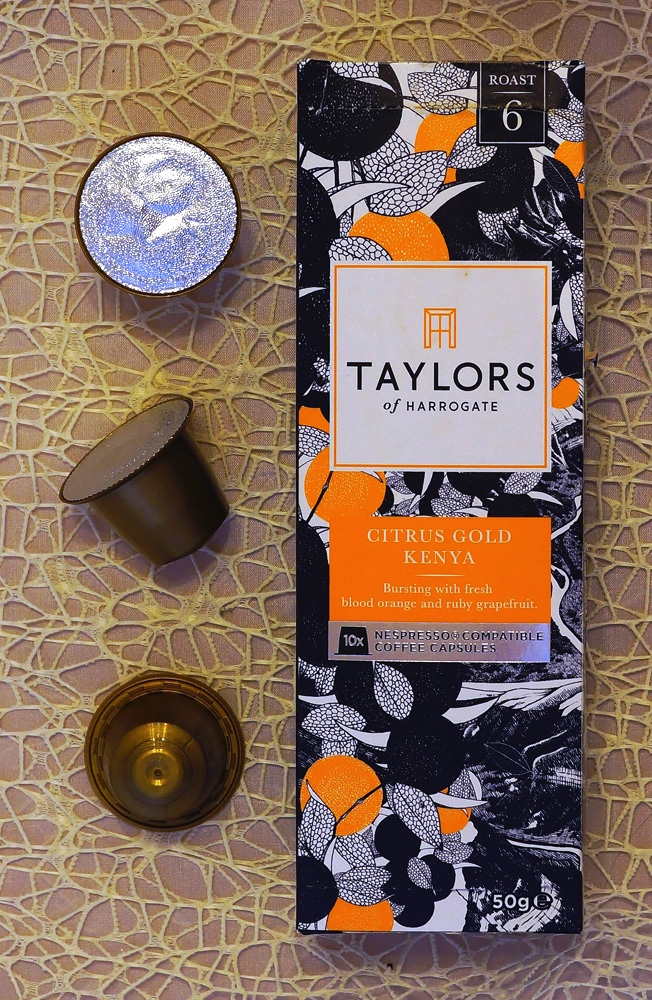 Aroma
Malty sweetness with notes of toffee and nuts is followed by light cocoa bitterness.
Taste
In contrast to the sweetness on the nose, the taste has distinct herbal bitterness and rather sharp citrusy acidity. Fruity sweetness of red berries appears again only in the aftertaste.
Extraction
A steady, longer than usual extraction produces nice tall crema.
Packaging
Another beautifully designed box from Taylors contains neatly packed capsules. These are made of brightly coloured plastic and are covered by an aluminium foil lid. This combination of materials makes these capsules non-biodegradable and difficult to recycle. Capsules are well presentable in a decorative holder or in their smartly illustrated box. Taylors promise juicy citrus flavours of orange and grapefruit. Intensity (roast) rating is 6.
Notes
Another beautifully packaged single origin Arabica coffee from Taylors. Unfortunately, as with the new edition of Brazil, this new edition of Kenya also makes disappointingly worse coffee than the previous edition of Kenya from Taylors.