Kenya by 
Taylors of Harrogate
The Kenya Heirloom Espresso from Taylors is delicate and well-balanced with notes of red berries and chocolate. Each capsule consistently delivers excellent quality coffee.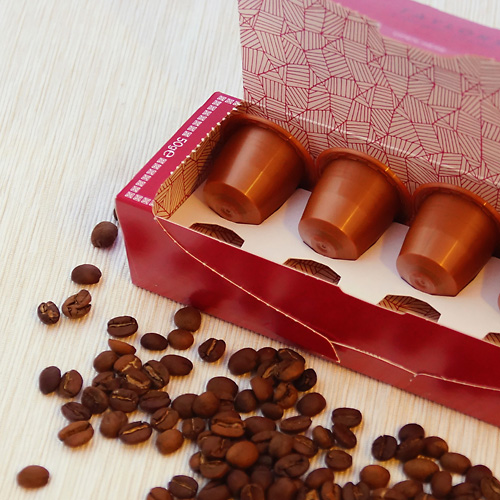 Aroma
Very pleasant aroma with sweet notes of red berries, chocolate and a hint of salty caramel.
Taste
Full-bodied taste with well-balanced bitterness and subtle acidity. Distinct chocolate tones and a smooth lasting finish.
Extraction
Consistent cup of espresso with good crema from every capsule.
Packaging
Nicely presented box with a cool pattern inside. Capsules are plastic with an aluminium foil lid and have a lively colour and clean lines. They will look fine in a capsule holder. Capsules are not biodegradable and the combination of materials they are made of makes them difficult to recycle. The description on the box promises intense cup with bold fruity notes of fresh black currants, jammy apricots and floral undertones. Taylors give their intensity as 6 out of 12.
Notes
This single origin Kenya contains heirloom beans. This, in Kenya, typically refers to the Bourbon Arabica variety which delivers sweet, rounded, low acidity coffee. Our experience agrees with these high expectations.