Yeti Moka Bio, Ethiopie by Terres de Café
Yeti Moka Bio by Terres de Café is exquisitely complex coffee with an aroma of rich caramel, zesty bergamot, ripe sour cherries and dark cocoa. On the palate, Yeti Moka Bio balances the fine bitterness of dark cocoa with velvety chocolate and the juicy acidity of red currants.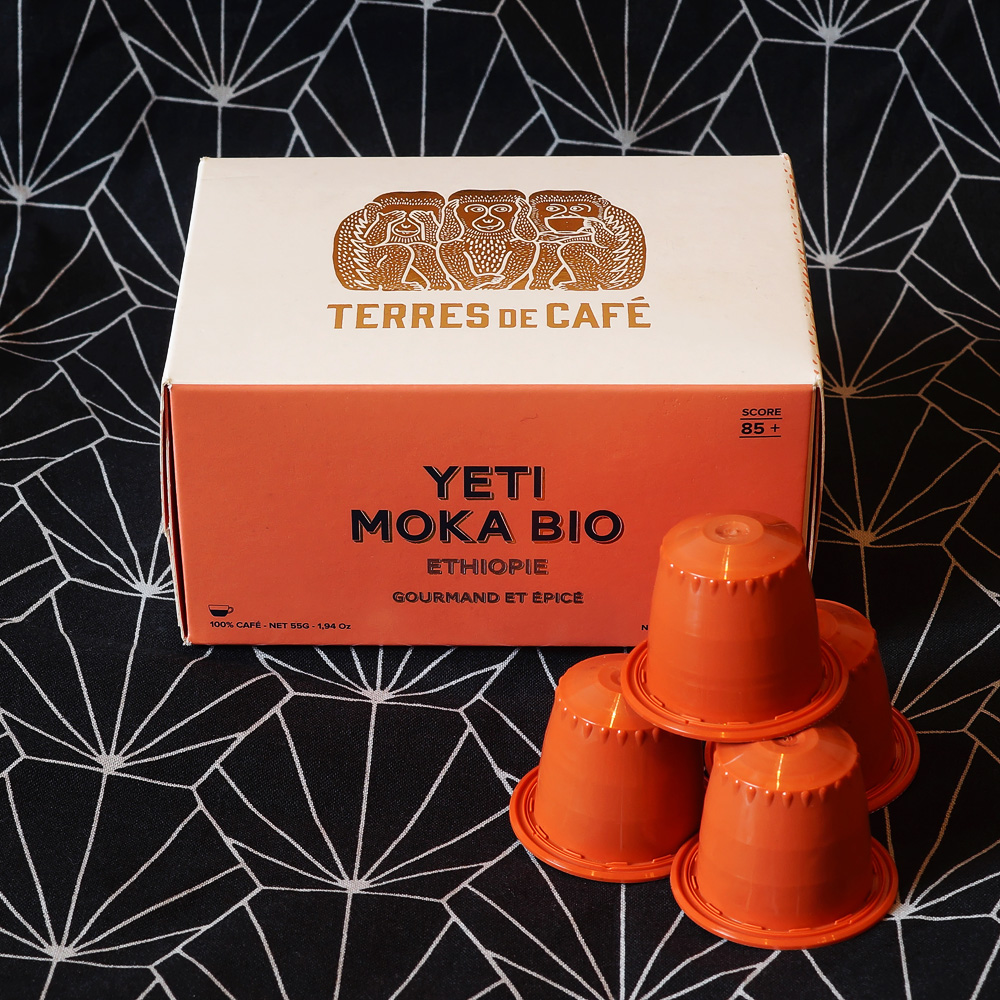 Aroma
The aroma of Yeti Moka Bio is well-balanced and pleasantly complex. Its rich caramel sweetness is accompanied by sugary cereals, herbal notes of hay and a touch of lemongrass. A layer of freshness is supplied by zesty bergamot and ripe sour cherries, while dark cocoa powder adds a dusting of fine bitterness.
Taste
Yeti Moka Bio carries its wonderful balance onto the palate. Here, the refined bitterness of dark cocoa combines with velvety chocolate and an explosion of fresh, fruity acidity. In it, juicy red currents are mellowed by sweeter pears and apricots. On top of all that, elderflower adds the finishing touch.
Extraction
A standard extraction makes nice and tall crema.
Packaging
Yeti Moka Bio comes in a neat, pastel-coloured box. The plastic capsules in a matching colour are covered by aluminium foil. Capsules are non-biodegradable and difficult to recycle. Terres de Café describe Yeti Moka Bio as gourmet coffee with notes of praline and sweet spice.
Notes
Yeti Moka Bio by Terres de Café is an exquisite coffee that highlights the power of carefully sourced beans. In these capsules, the speciality roaster Terres de Café offers us bio-quality Ethiopia from the mountainous village of Yeti. Yeti farms lie in the wild coffee forests where Heirloom Arabica varieties grow at altitudes of 1500-1600 m a.s.l. The Yeti Moka Bio beans achieved a cupping score of 85+, which means exceptional coffee. And exceptional it is also in our opinion, equalling the Roastworks Sumatra or Wegida Blue and Mi Bendicion from Colonna.